Mon., Aug. 23, 2010
Regrets, apologies as Idaho copes with Medicaid billing mess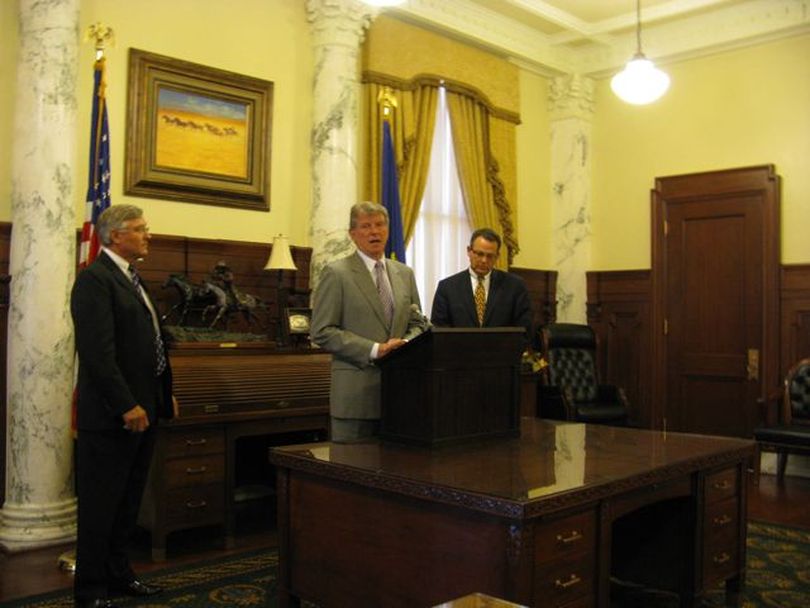 Gov. Butch Otter called a press conference this morning with Health & Welfare Director Richard Armstrong and Mario Molina, CEO of Molina Healthcare Inc., the firm that's handling the bungled changeover of Idaho's Medicaid billing. "We've just finished what I would call a productive meeting on the problems we've had for the last six or seven weeks on getting our Medicaid payments out," Otter said; Molina also met with an array of Medicaid providers, from home-health agencies to hospitals and doctors. Otter and Armstrong announced a moratorium on any penalties to providers for overpayments - barring fraud - for those who get emergency payments as the state sorts out the mess. Armstrong said new claims now are being processed normally, and he has "some comfort" that the backlog should be substantially cleared up within 60 days. Molina said his firm is adding 48 customer-service staffers in Boise, as part of a ramp-up to staffing of nearly 200, vs. the 100 it had when it first took on Idaho's new computerized Medicaid billing system.

"Clearly there have been issues with the implementation of this new system," Molina said. "I'm not here to make excuses. ... I want to apologize to the providers who have had problems and to the state." You can read my full story here at spokesman.com. Molina, a physician, said his father, also a physician, founded his firm 30 years ago, and it still operates some clinics that provide Medicaid services, so it relies on just the type of service that's broken down in Idaho. Two-thirds of the new workers have now been hired and trained, he said, and the remainder will be coming on within the next two weeks. "It was good for me to connect first-hand and hear from the providers what the major issues are," he said. "We were understaffed initially because we didn't understand the magnitude of the situation."

When a reporter asked if the additional staffing would come at a cost to the state or to the company, Molina said, "I think that's going to be our cost." Interjected a wickedly grinning Otter, "You think?" "I'm pretty sure it's going to be our cost," Molina said.

Idaho awarded the contract for the new Medicaid claims payment system to a division of Unisys Corp., which spent two years developing it, only to be acquired by Molina on May 1, a month before the system went live. The Medicaid billing problem was magnified because the state, in a budget-balancing move, pushed three weeks worth of Medicaid payments to providers into the new fiscal year that started July 1, rather than paying them in June. Providers were notified in advance that their checks would be three weeks late, but then the computer snafu pushed that to six weeks and more, putting many small firms across the state in danger of going out of business.

Otter said of the budget move, "That added to the anxieties." Some providers had taken bank loans to tide them through the three-week delay, he said, leaving them with major problems when the checks didn't arrive as promised. "I never like to do that in any case," Otter said of the delayed payments. "I regret doing that to any agency, let alone just the Health & Welfare agency."


---
---