Tue., Aug. 24, 2010
Art with a message in downtown Boise…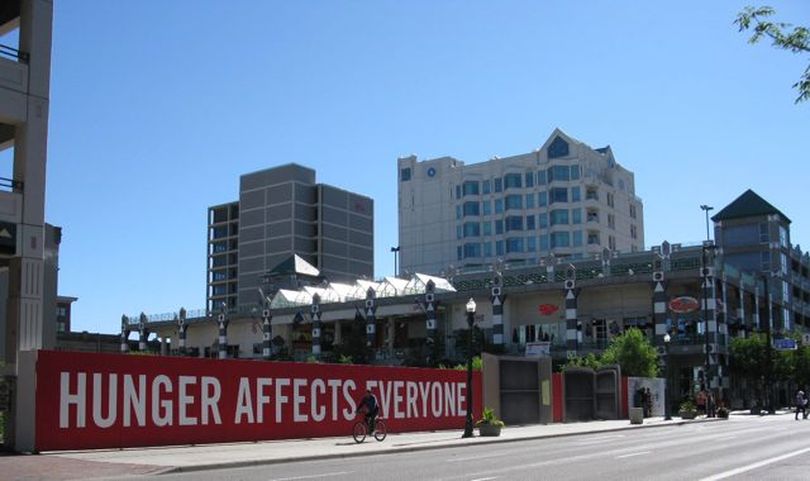 Art with a message went up in downtown Boise today, as a new anti-hunger mural was unveiled on the south wall of the infamous big hole in the center of downtown. The mural proclaims "HUNGER AFFECTS EVERYONE," and features striking 3-D images of an empty fridge and an empty cupboard, with a shopping list on one cupboard door listing such basics as bread, milk, eggs and soup. As contributions are made to feed the hungry, the empty cupboard and refrigerator will fill with food; the mural is scheduled to be up until January. It's a collaboration between the city of Boise's Art and History Department, Boise Young Professionals, Wirestone, which donated the design work, and the Idaho Foodbank. Also contributing to the project were Hewett-Packard, Home Depot, Thriftway Home Center, Food Services America, and Signs 2 U.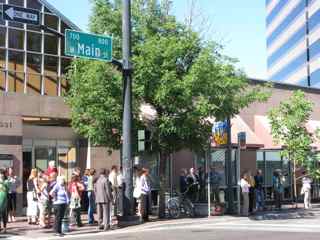 As the work was unveiled this morning, a knot of volunteers and passers-by gathered across Main Street to watch; the 3-D images, which don't look like much up close, stand out in the view from across the street and for motorists driving by. The mural also features information about food drives and other anti-hunger events.

"During uncertain times, more and more Idahoans are seeking emergency food assistance, many for the first time," the Idaho Foodbank said in an announcement about the project. More than 40 percent of those seeking its assistance have a family member who's working; more than 70 percent of households seeking help did so because their income has temporarily dropped below $10,000 per year.

The wall that serves as a barrier around the hole in the center of downtown Boise has played host to an array of murals over the years; behind it, an unfinished foundation and jutting rebar testify to a giant office tower that never was built, one of a series of failed redevelopment proposals on the site that once was the home of the historic Eastman Building. That structure, vacant and on the verge of a historic renovation, burned to the ground in a spectacular midwinter nighttime fire two decades ago; it's the last remaining piece of Boise's original downtown redevelopment zone that's never been successfully filled back in.


---
---