Wed., Dec. 1, 2010
Lawmakers, others gather at tax confab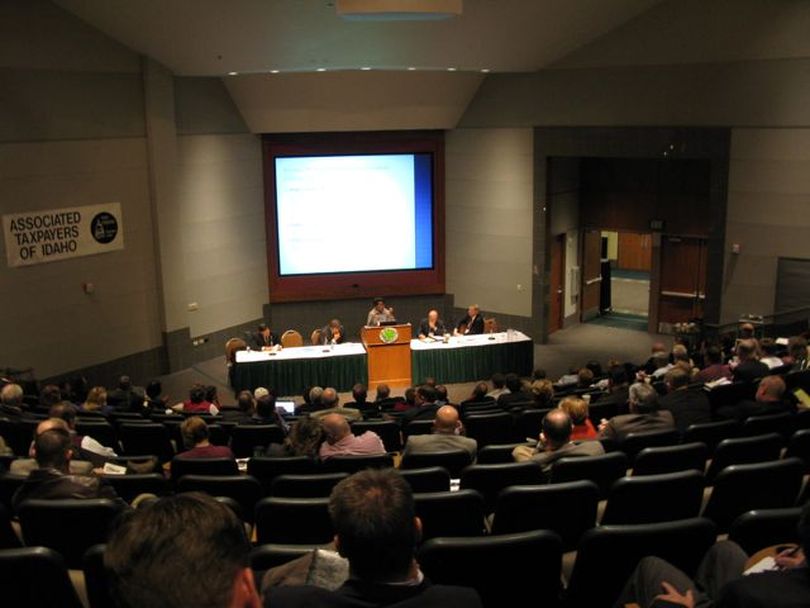 Hundreds of state lawmakers, local officials, lobbyists, business people and others are gathered for the annual Associated Taxpayers of Idaho conference today, which will feature Lt. Gov. Brad Little as the luncheon speaker on Idaho's priorities as the 2011 legislative session and the new budget year approach. So far, the group has received briefings on taxes, health care and the economic outlook, including a lively presentation on health care reform from Joy Wilson, senior federal affairs counsel and health policy director for the National Council of State Legislatures.

Wilson noted that the reason the national health care reform bill included a controversial universal mandate - a requirement that virtually all Americans purchase insurance coverage - is because insurers insisted on that, in part in tradeoff for requirements that they must insure those with pre-existing conditions. The nation's employer-based health care system is different from any other country's, Wilson said. "It is a competitive drain on our large companies, because the competition does not have to deal with our health system the way it is, but our companies do."

Michael Morris, executive vice president of real estate for Zions Bank, is now presenting information on the real estate market and financial risk; earlier, Ed Karl, vice president for taxation of the American Institute of CPAs, discussed federal tax policy. This afternoon, the conference will focus on Idaho, from the state's budget position to PERSI to the prison system to how Idaho's local governments cope with recessions.
---
---