Wed., Dec. 1, 2010
Two views of Idaho's budget 'hole'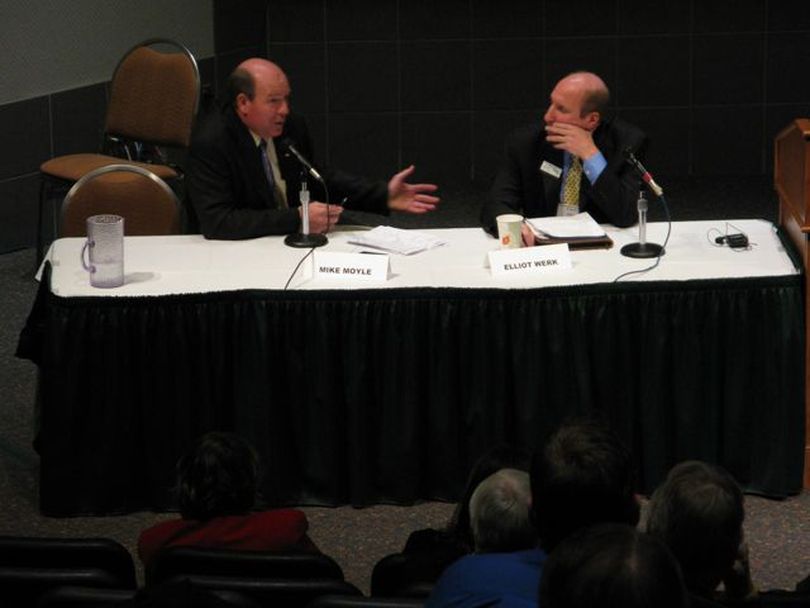 The final speakers at the Associated Taxpayers of Idaho conference today were two members of the Legislature's leadership, Sen. Elliot Werk, D-Boise, Senate assistant minority leader, and Rep. Mike Moyle, R-Star, House majority leader. Werk said there's "no free lunch," but the public apparently believes there is. "The public believes that they can get the services they want and need, and don't have to pay for them," Werk said. "We have a very, very large hole to either fill or cut down our services to."

Werk said, "So we have a situation in the Legislature where I think we have unrealistic expectations in terms of the public, we have legislators that have made promises, the governor's made promises, there's all kinds of promises out there about what we're going to do." He said, "I don't have those answers ... but understand that at some point the Legislature's going to have to make some decisions that are going to be very, very difficult, and there's no way to avoid those things any longer."

Moyle said this year's Legislature will likely discuss three ways of "getting out of this hole:" tax increases; budget cuts, including cuts in services; and "reduction of taxes." That third one, he said, "may sound kind of odd." But he said he's concerned "that we do no harm." Said Moyle, "We've got to be careful that we don't create tax burdens in areas that will force businesses to leave the state."

Moyle declared, "Tax policy has a direct effect on where jobs are created." He recalled when Micron built a plant in Virginia, and said he thought tax incentives could have persuaded the company to expand in Idaho instead. "I firmly believe that the answer is jobs, and to get those jobs you've got to have a tax policy that attracts those jobs here," he said.
---
---