Fri., Dec. 10, 2010
River advocates deliver peanuts to ITD, say megaloads opponents aren't 'nuts'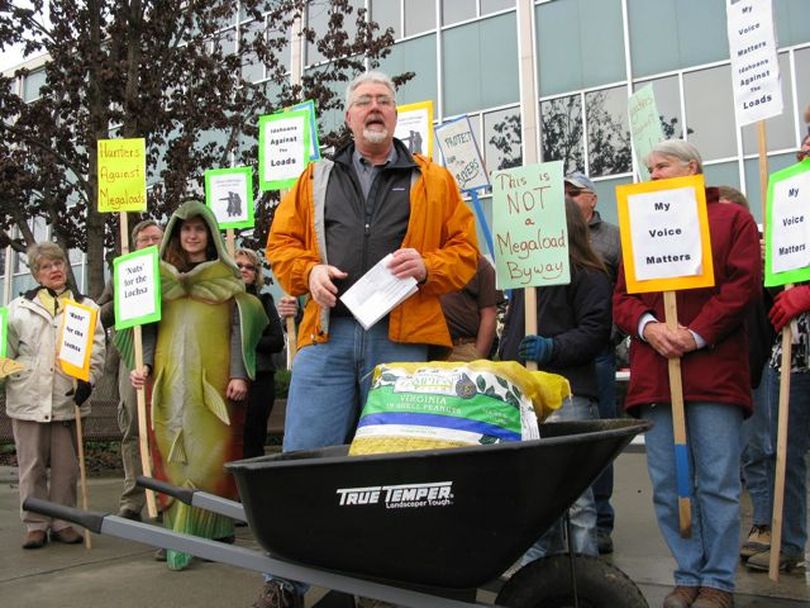 More than a dozen Idaho river advocates gathered in front of the Idaho Transportation Department's headquarters today to deliver a 50-pound bag of peanuts to DMV administrator Alan Frew. "The people who oppose the megaloads are not 'nuts,' Mr. Frew," declared Bill Sedivy, executive director of Idaho Rivers United. "We take exception to your testimony characterizing those who oppose the mega-shipments as 'nuts.' We believe your comments exemplify ITD's dismissive attitude toward those who have legitimate concerns about these proposed, region-altering shipments."

On Wednesday, during the first day of the two-day contested-case hearing on the proposed ConocoPhillips megaloads, Frew testified that ITD decided to have turnouts along Highway 12  barricaded 24 hours in advance to avoid "nuts" protesting the loads from blocking traffic. Sedivy said his group had no intention of doing anything like that. "Certainly we wouldn't condone any kind of behavior that threatens harm or injury to anybody," he said. "That's not our way, that's not how we do business."

The group gathered in front of the ITD headquarters included famed Idaho whitewater boater Rob Lesser, who has been boating the Lochsa River along Highway 12 since 1970. Lesser called the Lochsa "one of the stellar resources in the state of Idaho," and said any plans to block the turnouts where whitewater rafters, anglers, hikers, sightseers, tourists and others park is "unacceptable if it happens during any of these recreational periods." Though the ConocoPhillips is proposing just four megaloads which it wants to ship as soon as possible, ExxonMobil is proposing more than 200 more over the next year and another firm is proposing dozens more starting next spring.

The group today also included a woman dressed in a fish costume holding a sign saying, "'Nuts' for the Lochsa," along with others holding signs with such slogans as "Hunters Against Megaloads" "Protect our Rivers," and "Idaho's heritage is not for sale" under a drawing of a silhouetted Lewis and Clark, the explorers whose path the highway roughly follows.
---
---