Mon., Feb. 15, 2010
Groups criticize immigration bills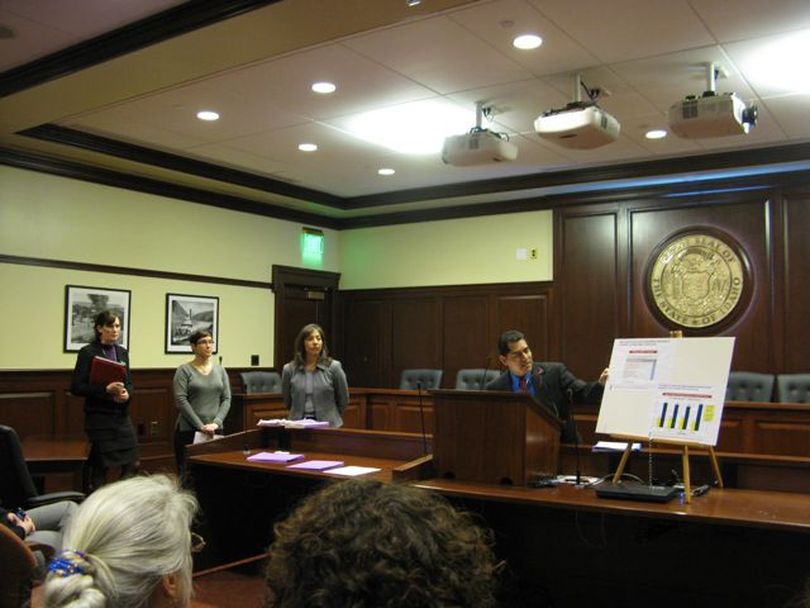 Several groups joined today to speak out against three pending bills that seek to penalize Idaho employers who hire illegal immigrants, saying the bills will be costly, will hurt businesses and won't help the nation with its immigration issues. "What the nation wants and what Idahoans want is a comprehensive solution," Leo Morales of the Idaho Community Action Network said. He released results of a poll in the 1st Congressional District that found that among 500 likely voters polled, 88 percent would support comprehensive immigration reform that "secures the border, cracks down on employers who hire illegal immigrants, and requires illegal immigrants to register for legal immigration status, pay back taxes, and learn English in order to be eligible for U.S. citizenship."
    
Attorney Maria Andrade said the three pending Idaho bills look solely at penalizing employers. "During this time of a down economy, we think it's unwise for the state to be creating more layers of red tape for businesses and the state," she said. Christine Tiddens of the Roman Catholic Diocese of Boise said the measures would have "numerous negative intended and unintended consequences," and would "create chaos and fear in the community, instigate more immigration raids, lead to even more racial profiling in the state, impact the economic security of local farmers, ranchers and dairymen, and cause undocumented immigrants to either seek work outside of Idaho or face the risk of committing a felony."

The bills are backed by prominent GOP lawmakers. One is sponsored by Senate Transportation Chairman John McGee, R-Caldwell, and Sen. Curt McKenzie, R-Nampa, and focuses on penalizing the use of false documents. Another, from Sen. Mike Jorgenson, R-Hayden Lake, proposes an array of penalties for employers along with mandatory use of the "e-Verify" system and other provisions, including banning driver's license tests in languages other than English. The third, from Reps. Phil Hart, R-Athol, and Raul Labrador, R-Eagle, focuses on penalizing employers who knowingly employ illegal workers.

---
---