Mon., Feb. 15, 2010
Liquor sampling bill killed on tie vote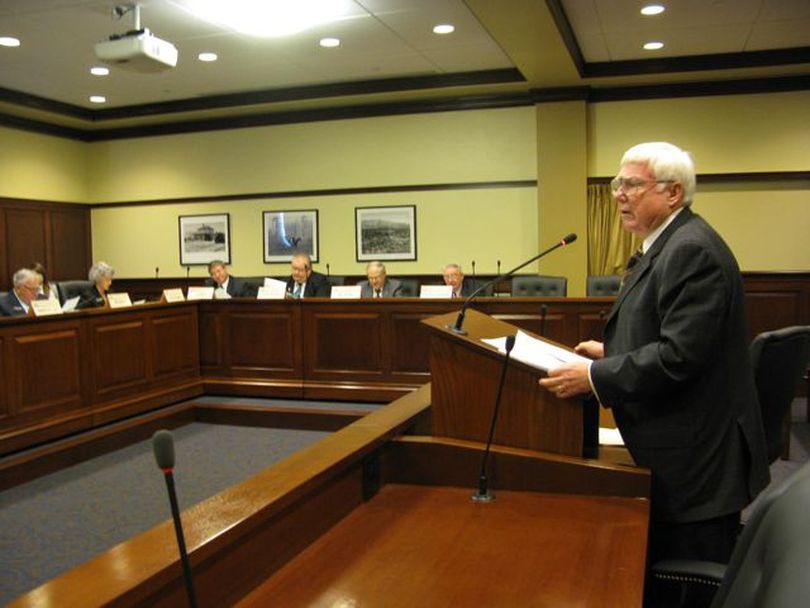 Rep. Jim Clark's proposal to allow liquor sampling at Idaho distilleries, just like wine-tasting now is allowed, was defeated on a tied vote this morning in the House State Affairs Committee. "HB 393 is a small-business jobs bill," Clark told the committee, noting that there are distilleries in Idaho Falls, Rigby, Caldwell, Boise, Eagle, and Coeur d'Alene, with another proposed for Kootenai County. "The big emphasis here should be jobs - this is a jobs bill," Clark declared. He said a businessman in Kootenai County approached him about the bill for a gin distillery he hopes to open. But committee members had concerns about the higher alcohol content in distilled spirits compared to wine. "You could really, technically have 3 ounces of alcohol in less than an hour," said Rep. Phylis King, D-Boise. "I'm just concerned about driving away under the influence, so I'm going to have to vote no on this one."

Rep. Lynn Luker, R-Boise, asked Clark if there are any studies on "how many people drive an automobile to these booze boutiques." Clark said no, but that most people likely do; he stressed, however, that the same drunk driving laws apply regardless of the bill. Clark also told the committee that people likely wouldn't swallow most of the alcohol they sample; he said at both wine and spirits tastings, "you taste it, you get the sense of it on the lips, then you spit it out." But Rep. Ken Andrus, R-Lava Hot Springs, asked, "How are you going to stop 'em from swallowing it if it's in their mouth?" "I'm not trying to stop anybody from doing anything," Clark responded.

Committee Vice-Chair Eric Anderson, R-Priest Lake, said most people wouldn't swallow the samples they taste of gin, because after four or five, "you can't taste anything." But the committee deadlocked 8-8 on a motion to send the bill to the full House with a recommendation that it "do pass," killing the bill. Clark, outside the hearing room, said, "Economic development, jobs bill - I guess they didn't want that."

---
---