Wed., Feb. 17, 2010
Controversial adoption reform bill killed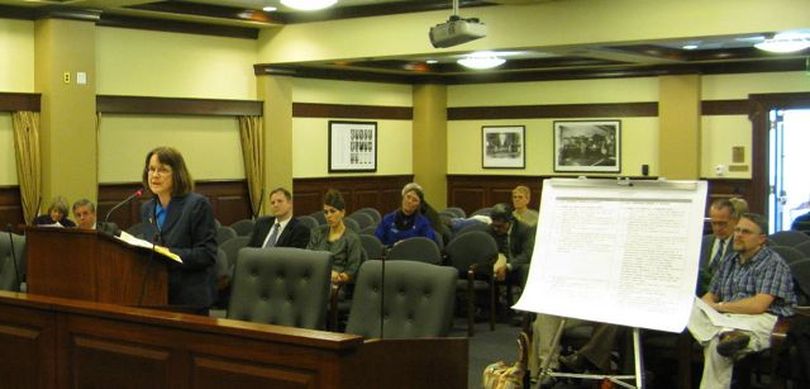 What rights should an unmarried biological father have, when the unmarried birth mother wants to put a baby up for adoption? No rights? All rights? Rights sufficient to hold up or stop an adoption, even if he's really just trying to make his ex-lover's life miserable? And what about the father's family, the baby's biological grandparents, aunts, uncles and cousins?

There were tears and sobs, there were lawyers, there were sharp questions and more as the House Judiciary Committee wrestled with those issues this afternoon, before unanimously rejecting legislation drafted by Coeur d'Alene attorney Anne Solomon on behalf of a North Idaho family that unwillingly lost all contact with their son's out-of-wedlock baby boy, who was adopted in Utah before the family could do anything to stop it. Kerrin Tenneson told the panel, "My son continually let her know that he did not want to give the baby up for adoption." After a fight, her son was awarded custody in court, but it was too late - a Utah family already had adopted the little boy, and wouldn't return him. "We really would've been a good family for this little baby boy," Tenneson said.

Solomon's 12-page bill would have required 30 days notice to the biological father and termination of his parental rights before an adoption could take place, along with other changes including new requirements for birth mothers to identify the father and refrain from deceiving him about the pregnancy or their plans. Solomon said current law - adopted through a series of adoption law reforms a decade ago - protects the mother's privacy to the point that she can hide the whole thing from the father. "What we're asking here is that the biological father be given notice of the decision to adopt," she told the committee.

But Rep. Raul Labrador, R-Eagle, a lawyer who served on the task force that drafted the reform laws 10 years ago, said, "If there are good fathers out there, they should know they have a baby." The reforms sought to make adoption easier, he said, by removing a "legal mess" that mothers otherwise could avoid by having an abortion. Adoption attorney Lyman Belnap said of Solomon's bill, "It shifts all the burden of letting me know to anyone but me. I don't have to do anything 'til somebody lets me know, even though my recreational sex has left somebody pregnant and I know that I had the sex." He added, "I'm as angry as anyone else about what happened to this family that prompted this movement."

Lori Schroath broke down in tears as she told the committee that if the bill had been in effect when she adopted her 2-1/2-year-old son, "I probably wouldn't have gotten him." The birth mother was a minor, but the birth father wasn't - and if he'd registered as the putative father, he'd have been arrested, she said. Cameron Gilliland of the state Department of Health and Welfare's Family and Community Services division said the department opposed the bill because it threatened to delay adoptions, possibly putting the state in violation of federal guidelines.

Labrador, who moved to kill the bill, said, "I think Ms. Solomon and in particular the Tenneson family brought up some issues that need to be discussed ... but there are some problems with this bill that need to be addressed." Solomon said she'll work with the state bar, Health and Welfare and others to craft a better version for next year.

---
---