Wed., Feb. 17, 2010
Senate panel passes 'Health Freedom Act'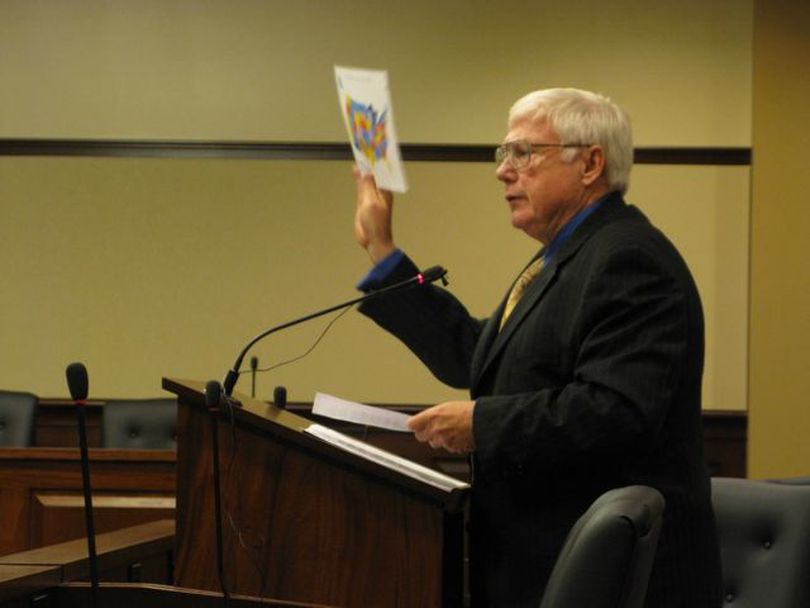 The Senate State Affairs Committee, after a nearly two-hour hearing in which committee members raised serious legal concerns about the bill, nevertheless voted 6-3 this morning in favor of the "Idaho Health Freedom Act," a measure that bans the enforcement of any federal requirement for individuals or businesses to purchase health insurance and requires the state Attorney General to go to court to fight any such requirements. Click below to read more.
Rep. Jim Clark, R-Hayden Lake, told the committee the bill would give the state standing for a lawsuit challenging federal health care reform. But committee members said that's not correct. "I'm pretty sympathetic to your legislation, but I'm having a hard time understanding your point on standing," Sen. Bart Davis, R-Idaho Falls, told Clark. The bill asserts that the power to regulate health care isn't enumerated in the Constitution, and therefore is reserved the states under the 10th Amendment. With constitutional grounds, Davis said, "Why in the world do I think I gain increased standing by passing a statute?" Clark said he thought several Supreme Court decisions suggested the law could help. "I think it's worth a challenge to provide us standing, and HB 391 as amended does that," he said.

Sen. Joe Stegner, R-Lewiston, told Clark, "I acknowledge that health care services aren't found in the Constitution, but the Commerce Clause is, and the Supreme Court for a long time has suggested that the federal government has the right to regulate commerce, and I certainly think that probably health care in the nation at the moment is interstate commerce. Why in the world do you think the state can arbitrarily declare that they have sovereignty on the issue of health care when in fact I think all sorts of precedent would say that the federal government certainly can impose that if they so choose?" Clark responded, "The commerce clause is there, but the federal government still has to prove that in court, and I think it's worth a fight."

Sen. Kate Kelly, D-Boise, asked Deputy Attorney General Karin Jones to answer several questions about legal implications of the bill. Without taking a position on the bill, Jones said it would "not make much difference" on standing; the Commerce Clause is implicated; it could affect other issues including federal employees in Idaho who are required to have physicals or other health care services for their jobs; and the bill likely would be pre-empted by federal law. "Really to the extent states have tried to either ignore federal statute or sort of ignore certain aspects of federal statute by enacting their own statute, it almost always has been pre-empted if it's an area that the federal government is allowed to regulate," Jones told the committee. "It looks more likely that a federal statute would pre-empt in this area than that it would not."

Sen. Monty Pearce, R-Plymouth, who moved to pass the bill, asked why it still allows the state to require people to purchase health insurance, like the state's existing requirement that state college students buy insurance. "It's looks like we're playing hypocrite with constitutional rights," he said. Clark responded that the states should be the "laboratory of ideas," but said, "I didn't say it was a laboratory of good ideas - I was just saying, sir, it's a laboratory of ideas. Now some of those are good and some of those are bad. ... We've got the right to be wrong with a bad idea and the right to do that, but I don't want somebody else forcing that on us."

So far, the bill has been passing on straight party-line votes, with Republicans supporting it and Democrats opposing it, but Stegner joined the Senate committee's two Democrats in opposing the bill. He called it "meaningless legislation," and said, "The state of Idaho can't just arbitrarily declare themselves above prior decisions of the Supreme Court." The bill now moves to the full Senate, having already passed the House.
---
---