Fri., Feb. 26, 2010
Senate debates 'conscience' bill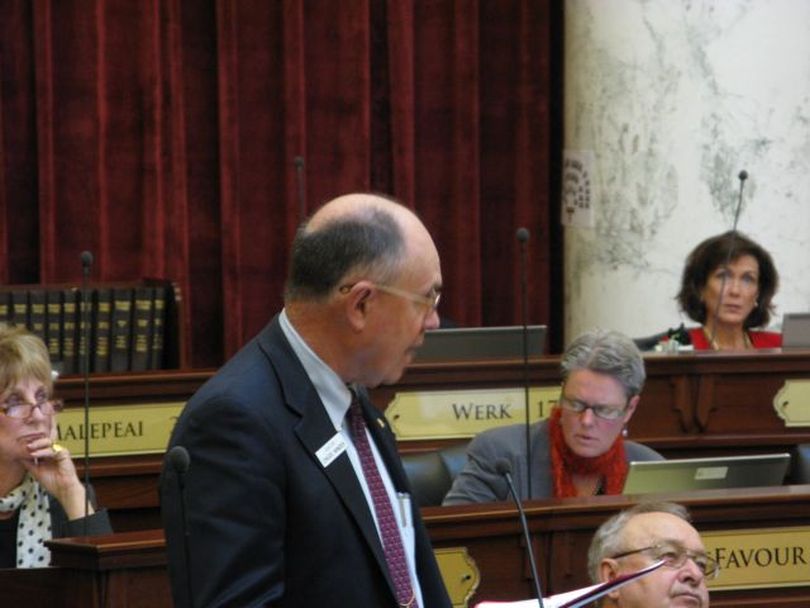 The Senate is debating SB 1353, the health care provider "conscience" bill regarding abortion, emergency contraception and end-of-life care, specifically permitting any licensed health care provider to refuse to provide a treatment or medication on "conscience" grounds. "The intent of this legislation is not to restrict or limit in any way health care services to women or men in Idaho," lead sponsor Sen. Chuck Winder, R-Boise, told the Senate. Winder said current Idaho law permits doctors or hospital workers to refuse to participate in an abortion if it violates their conscience. "I found it strange ... that it did not include all licensed health care professionals," Winder said. He called his bill "an attempt to correct what we perceived to be an oversight."

Sen. Michelle Stennett, D-Ketchum, spoke emotionally against the bill, noting that her husband, Sen. Clint Stennett, for whom she's substituting, is undergoing chemotherapy treatment for cancer, and her father just passed away. "I understand completely what end of life care is on a personal level, and it is a family matter," she said. The bill could let a pharmacist or other health care provider override a family's or a patient's decisions on treatment, she said. "Also emergency contraception is not an abortion pill, and in cases of rape or health issues to women, I would hope that we'd be sensitive to trauma and to needs."

Sen. Kate Kelly, D-Boise, said the bill has "some real unintended consequences that we need to talk about today," particularly regarding its impact on end-of-life care. "What this bill does is infringes on those families' access to information as they go about those very difficult, very important decisions," she said. Kelly, a lawyer, said it also raises legal questions that likely will lead to litigation, including its impact on employers.

Sen. Shirley McKague, R-Meridian, spoke in favor of the bill. "It will do no harm. It will protect people's freedom of conscience," she said, "and I urge support for this bill."
---
---