Thu., Jan. 7, 2010
Otter: No holdback now, but will propose one when he presents his budget on Monday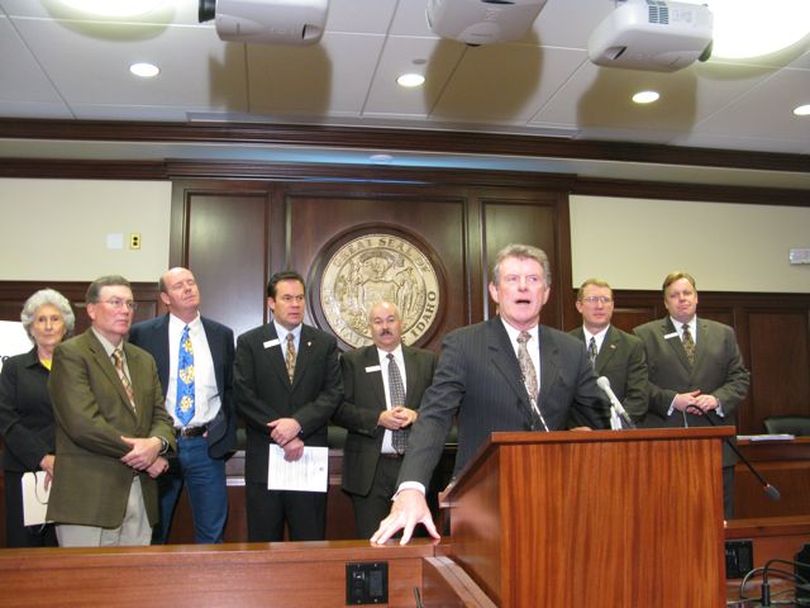 Gov. Butch Otter just announced that he's not imposing additional holdbacks now - but he will include a holdback in the executive budget he proposes to the Legislature on Monday. "It's a necessary joint effort by myself and the Legislature," Otter said. "We've worked on a few things. We don't have total agreement. ... I thought it was best to put that in the executive budget." Click below to read the governor's full news release.
GOVERNOR, LEGISLATIVE LEADERS AGREE ON BROAD BUDGET NEEDS, LIMITATIONS
                (BOISE) – Governor C.L. "Butch" Otter was joined by the co-chairs of the Legislature's Joint Finance-Appropriations Committee and other legislative leaders today in outlining broad agreements on how they will address a continuing revenue shortfall this year and setting a new State budget.
            During an annual legislative preview hosted by The Associated Press, the Governor and Republican leaders from the House and Senate agreed that the State's current revenue situation for fiscal 2010 will require another budget holdback, which will be detailed in Monday's State of the State address to the Legislature.
            Legislative majority also agreed with the Governor that the fiscal 2011 budget should be no larger than this year's. 
            "Over the past four months, legislative leaders and I have worked together in an unprecedented series of discussions about our State budget situation. I want to thank Speaker Denney and Pro Tem Geddes for suggesting those discussions, and for helping to make them so productive," Governor Otter said. "I also want to applaud the collaborative spirit with which JFAC Co-chairs Bell and Cameron, members of majority leadership and others such as Representative Bolz and Senator Keough have approached a difficult challenge."
            Their discussions led to a consensus that – even though some signs indicate the economy may be starting to turn around – the prevailing need is for State government to be prudent and cautious in its budgeting. An agreement that there should be no growth in the State budget for fiscal 2011, which starts July 1, is based on the best revenue estimates and projections now available, they said.
            "Things could change. We hope they do. And if so, we are ready to adjust our assumptions accordingly," the Governor said. "But for now, this is the right thing to do."
            "It will be a lot easier to go back and adjust the budget for unanticipated revenue growth than it would be to have to cut again after promising more than we have know we have right now," Senate President Pro Tem Bob Geddes said. "We think we can see our way out of the woods, but we're not there yet."
 "We're only doing what any small business or family would do with their own budget – hope for the best but plan for the worst," House Speaker Lawerence Denney said.
"If we're wrong, we want to be wrong on the side of caution. The people didn't send us here to over-extend ourselves with their money," Senator Dean Cameron said.
"We've been aiming at a moving target for a year and a half now, and we're not even sure what direction it's moving," Representative Maxine Bell said. "We'd be foolish not to be extra careful in setting the 2011 budget."
            Governor Otter will provide details of his Executive Budget Recommendation – including a new request for a cut in fiscal 2010 state spending – on Monday, when he delivers his State of the State address at 1 p.m. to a joint session of the Legislature in the Idaho House chambers.
            "I want to emphasize that nothing we are saying here today in any way affects the separation of powers or legislative processes. I honor and respect those processes, having been involved with them for 14 years as lieutenant governor," the Governor said. "We are working together now in an unprecedented way in the best interest of taxpayers – the people we serve – to ensure their money is used as wisely as possible. I appreciate the work of my colleagues in the Legislature, and look forward to forging a budget based on these principles."
###
---
---