Sat., Jan. 9, 2010
Thousands tour newly reopened Capitol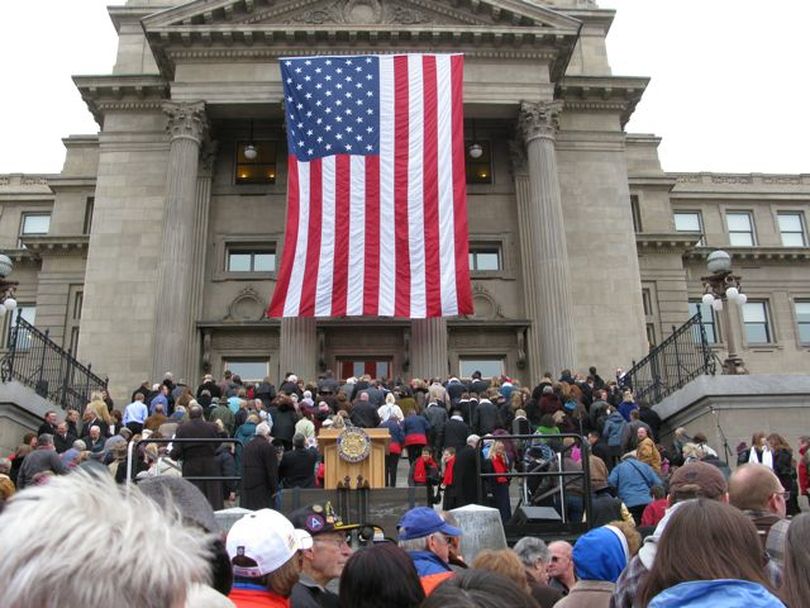 Thousands of Idahoans are streaming through their state capitol today, after a noon rededication ceremony that concluded when Gov. Butch Otter said, "I now declare the Capitol building officially open to conduct the people's business."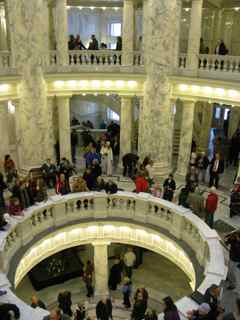 Crowds poured up the steps and through the second-floor doors, and as they passed inside, legislators greeted them, shaking hands and saying, "Welcome to your house." The newly renovated Capitol, closed for the past two and a half years for restoration and expansion, drew exclamations and comments like, "Look at this!" Big crowds poured through the governor's office where the governor and First Lady Lori Otter greeted guests and a guestbook soon filled with signatures; children lined up in the Secretary of State's office to punch the official state seal onto paper for keepsakes.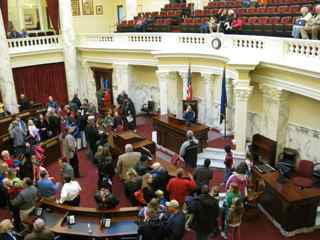 Around the Statehouse, people marveled over a rediscovered, birdcage-like historic elevator on the first floor; a large, comfy auditorium in the new underground wings in which a video was showing about the renovation project; and the chance to take each other's picture in the governor's office, sitting in the Senate president's seat, and around the elegant rotunda. A teenage girl hurrying up a staircase and talking on her cell phone said excitedly, "And I met the governor!" A new capitol gift shop on the "garden level" (basement) did brisk business in souvenirs ranging from Idaho State Capitol sweatshirts to keepsake wooden keys to the Capitol; musicians played in the garden level rotunda. The capitol remains open to the public for tours until 5 p.m. today.
---
---