Mon., Jan. 11, 2010
Guv fields questions after his speech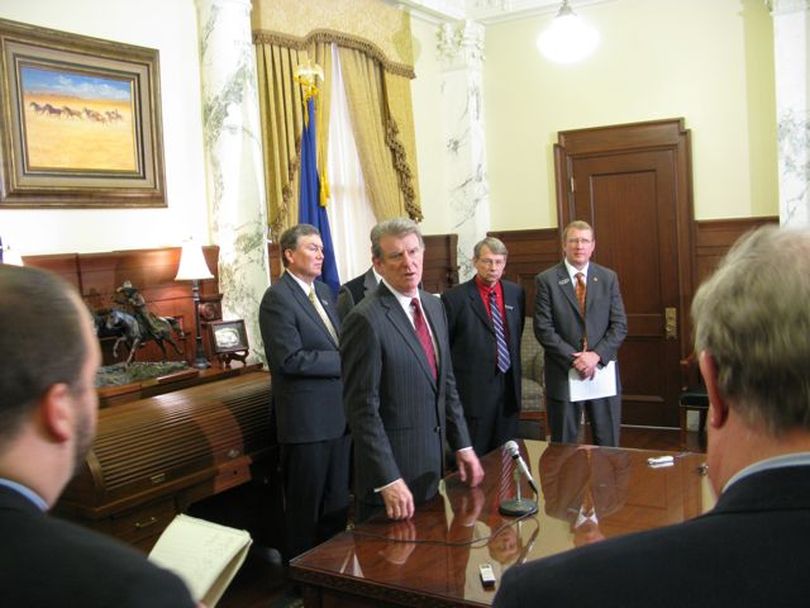 Gov. Butch Otter, answering questions from reporters in his office after his State of the State message, acknowledged that he's set his proposed budget for next year at $83.4 million less than his economists expect from state tax revenues. "I just think that we've overguessed the last few years," Otter said. He said he'd rather go in and replace money later with supplemental appropriations, than have to make more mid-year cuts. GOP legislative leaders said they, too, are skeptical about state tax revenues. "There's just a real broad stripe of cautiousness," said House Assistant Majority Leader Scott Bedke.

Otter also said his proposed elimination of the state Department of Parks and Recreation isn't a sure thing; "right now ... it's conceptual," he said. And he said he thought Idaho Public Television could survive his proposed four-year phase-out of state funding. "They really do have an opportunity to bring in outside money and to become self-sufficient," he said.
Otter said, "To those folks who say, 'Why are you cutting education?' I say, Where else would you have me cut?" He said he believes dedicated teachers will still deliver good education, and local districts will do all they can.
---
---