Wed., Jan. 13, 2010
Health Care Task Force splits 7-5 on opposing health care reform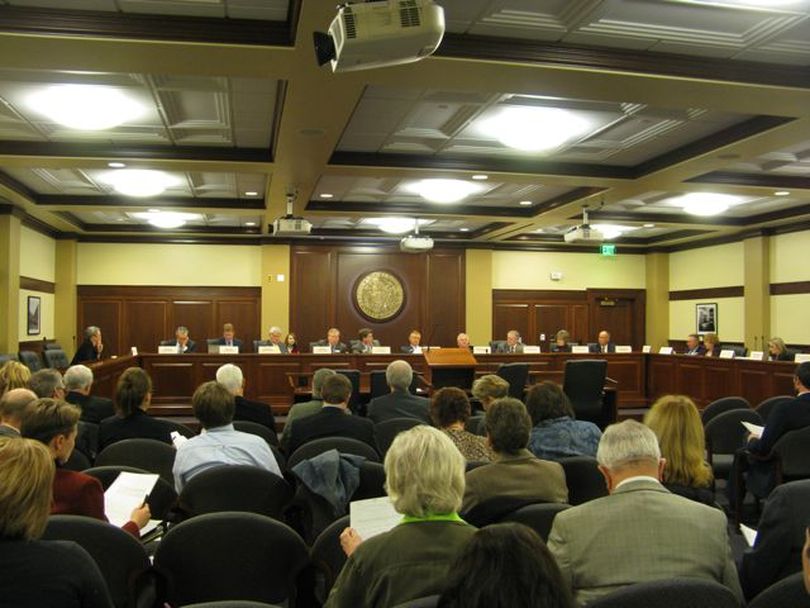 The Legislature's Health Care Task Force just split 7-5 in favor of a resolution by co-chairman Sen. Dean Cameron, R-Rupert, opposing congressional health care reform legislation and backing Gov. Butch Otter in his fight against it. Cameron said he was "appalled" at what he said were constitutional violations in the House and Senate versions of the reform legislation, "including but not limited to violation in which the Congress itself is vacating its own powers or bestowing powers upon others that it holds." He also said he thought it was unconstitutional to require people or businesses to buy health coverage, and that the changes would be costly to Idahoans. House Minority Leader John Rusche, D-Lewiston, said, "I think that while there are undoubted concerns about the two bills that we know about, the House and Senate version, that we don't know what health care reform truly looks like. ... The resolution calling for a fight against a bill that doesn't really even exist yet and hasn't passed yet, I think is a bit premature."

Rusche, a physician and former insurance official, said he also had some objections to wording in the resolution that he said was inaccurate. Sen. Tim Corder, R-Mountain Home, said, "I believe that we should support the policy of our governor, which is the policy of most of us by the way, but I think we should make sure these numbers are right."

Rep. Carlos Bilbao, R-Emmett, spoke emotionally. "Today when I look at this health care bill, I'm representing all those senior citizens who are so frightened out in my district and out in the state of what's going to happen to them when they either have to pay higher taxes or lose services. We can't afford to lose our senior citizens, no more than we can afford to lose our children. This is not the right bill for our people here and across the nation at this time. There has to be a better way of doing business so that the people who I talk to every day in my district, I can calm their fears. They're scared."

The task force then voted 7-5 in favor of a motion from Sen. John McGee, R-Caldwell, to send the bill to the full Legislature with a "do-pass" recommendation. Those voting yes were Cameron; McGee; Bilbao; Sen. John Goedde, R-Coeur d'Alene;  and Reps. Gary Collins, R-Nampa; Sharon Block, R-Twin Falls; and temporary Rep. Neil Anderson, who's filling in for Rep. Jim Marriott, R-Blackfoot. Those voting no were Sens. Corder; Joe Stegner, R-Lewiston; and Nicole LeFavour, D-Boise; and Reps. Rusche and Elaine Smith, D-Pocatello.
---
---