Mon., Jan. 25, 2010
Fighting hunger with lunch…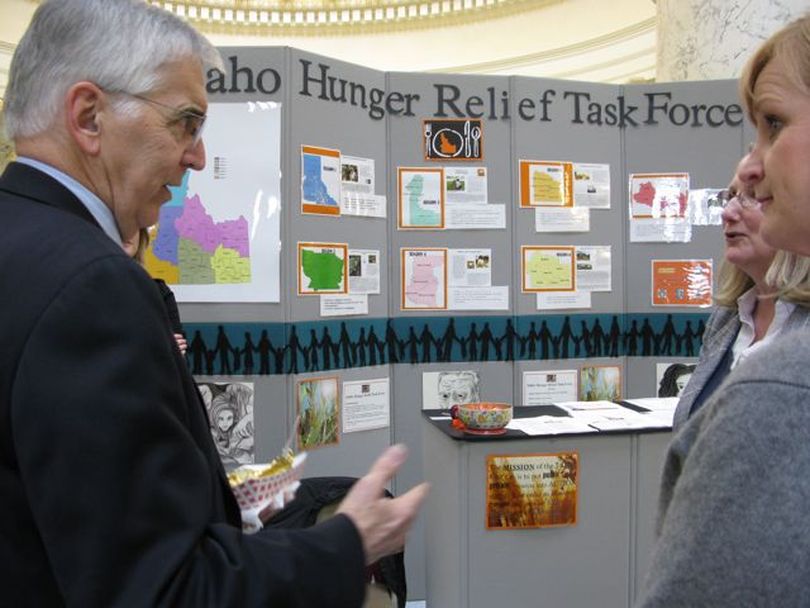 Rep. George Sayler, D-Coeur d'Alene, talks with members of the Idaho Hunger Relief Task Force at "Idaho Hunger Awareness Day" in the fourth-floor Statehouse rotunda today; fifteen hunger relief and nutrition groups from around the state are presenting displays and information about fighting hunger. They're also giving away Idaho potatoes with toppings, Idaho apples, and Dawson-Taylor coffee to anyone who comes to view the displays, with the slogan, "Do your part to end hunger - come have lunch at the Statehouse." Vivian Parrish, of the Idaho Interfaith Roundtable Against Hunger, said the groups hope to raise "awareness of the many different groups that are working against hunger in Idaho - they're seeing a huge increase, especially in the emergency food networks."

As for the food handouts, "It tends to draw the decision-makers up to where we are, because we're in what's called the attic," Parrish said with a smile. The fourth-floor rotunda area, where exhibits are held, is a little less off the beaten path now that committee hearing rooms are located in the basement, rather than on the fourth floor. Parrish said lots of legislators have come through the displays today. "We're very appreciative of their interest," she said.  There were just a handful of lawmakers at the displays over the noon hour; that's because Monsanto Corp. was hosting a luncheon for all legislators two blocks away at the Crystal Ballroom.
Sixteen percent of Idaho children live in poverty, Parrish said, and the figure's much higher in some counties. However, she said, Idaho's making progress: It's now ranked the 29th-hungriest state by the USDA, she said, though "a few years ago we were much higher." She said there's more collaboration now among the different groups working against hunger in the state - as shown by the joint display today.
---
---