Tue., Jan. 26, 2010
Kempthorne re-emerges on Idaho political scene, touts Ward for Congress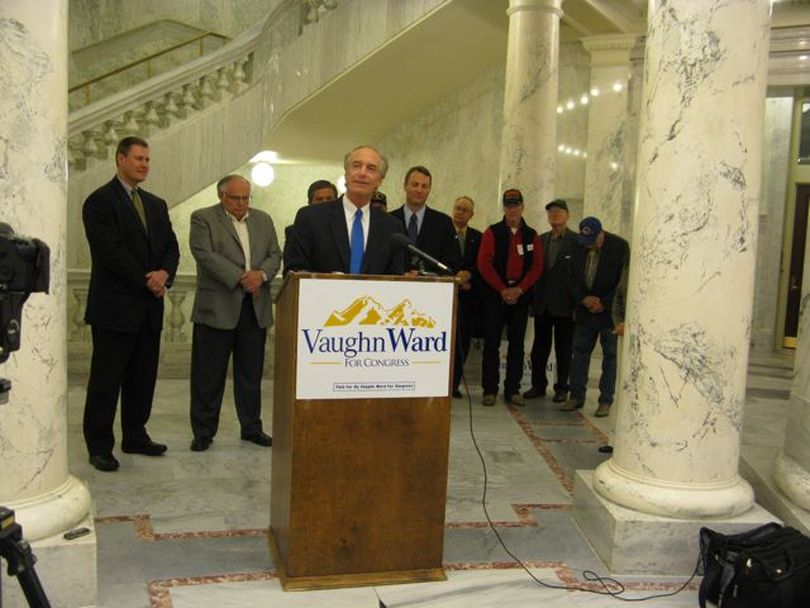 Former Idaho Gov. Dirk Kempthorne emerged back on the Idaho political scene today, endorsing 1st District congressional candidate Vaughn Ward, introducing Ward at a Statehouse press conference officially announcing his candidacy, and traveling with Ward around the state for two days of Ward's planned four-day, 18-stop announcement tour. "Eighteen years ago when I was a candidate running for the U.S. Senate, I asked Sen. Jim McClure if he would be my chair," Kempthorne explained. "He, at the time, had recently left public office. He said, 'Now that I'm a citizen, I can do this.' I have never forgotten that. Now that I'm a citizen, I can do this."

Kempthorne said he's known Ward since he graduated from Boise State University, and went to work on Kempthorne's Senate campaign 18 years ago. Ward went on to work on Kempthorne's Senate staff, then joined the Marines and served in combat in both Iraq and Afghanistan, earning the Bronze Star for his service in Fallujah. "I gave him the oath of office when he became a second lieutenant," Kempthorne said. "We've spent so much time together over the last 18 years. ... He has such a passion for service."  

Kempthorne will travel to North Idaho with Ward tonight for several stops tomorrow. He told a cheering crowd in the Capitol rotunda this afternoon, "I saw greatness in that Marine." He lauded Ward as "a son of Idaho, an American hero, a man who I believe we will elect the congressman from the 1st District."

It was Kempthorne's first public political act since he left office as the nation's Secretary of the Interior under President George W. Bush. He's also served as governor, U.S. senator and mayor of Boise. Now, he said, he's serving on corporate boards and advisory boards, and doing business consulting both nationally and internationally on energy, national resources and systems integration, based in both Boise and Washington, D.C.


---
---