Tue., June 8, 2010
Geddes, acting guv, signs three disaster declarations
Disaster emergencies have been declared by the governor today for three Idaho counties - Adams, Idaho and Valley - due to flooding. But those declarations weren't signed by Gov. Butch Otter; he's on a trade mission to China. And they weren't signed by Lt. Gov. Brad Little - he's in New York with state Treasurer Ron Crane, on Crane's annual trip to negotiate the state's bond ratings.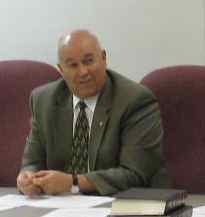 Today's acting governor is Senate President Pro-Tem Bob Geddes, who's been filling that role since Sunday and will continue until mid-day tomorrow when Little returns.

In addition to signing the disaster declarations, Geddes presided today over a special meeting of the state Board of Examiners.
Geddes said he figures he's served as acting governor 30 or 40 times in the last 10 years. If he's not in the state, the role falls to the Speaker of the House. Said Geddes, "You can do about anything you want as acting governor, but you'd better not do too much."
---
---