Wed., June 9, 2010
SupCourt arguments in Land Board case: 'The board itself set a rate it said is too low'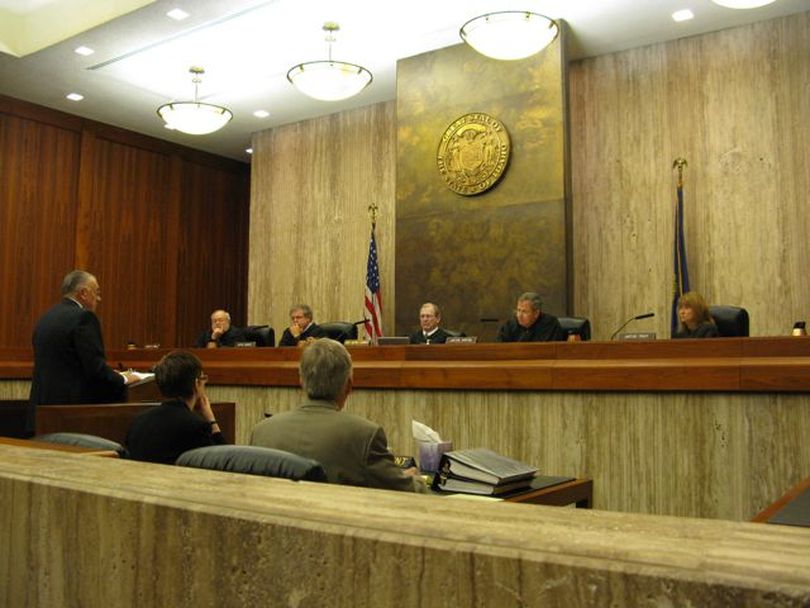 Idaho's state Land Board set rents for state-owned cabin sites for an upcoming 10-year lease period "that it knew would not achieve market rent, and it said so on the record," Deputy Idaho Attorney General Melissa Moody told the Idaho Supreme Court today. "Attorney General Wasden is not challenging the rate. ... We're not here because he thinks the rate is too low. We're here because the board itself set a rate that it said is too low."

Wasden has taken the unusual step of suing the Land Board - on which he serves - over the rents it set by a 3-2 vote in March for state-owned cabin sites at Priest and Payette lakes, because he said the board violated the Idaho Constitution's requirement that it garner the maximum long-term returns from state endowment lands, which largely benefit the state's public schools. State law says that's to be done by charging market rents throughout the term of the lease. Justice Warren Jones, questioning Merlyn Clark, the private attorney who argued today on behalf of the Land Board, said, "I got the impression, looking through the record, that everybody on the board realized what they're charging is not market rent."

Clark responded, "These statements are not attributable to the board. ... They are individual members of the board." He said, "The board has taken action." Clark argued that how to obtain maximum long-term returns for the endowment is up to the discretion of the Land Board. "They do the best they can - if they're wrong, they're wrong," he said. He filed a motion to dismiss the case on grounds that it could be taken up a lower-court filing under the Administrative Procedures Act, but Clark admitted today that that could be lengthy, and could mean litigating each cabin-site lot's value individually. "If you send it to the district court, it's going to go on for a long, long time," he said.

Wasden has asked the Supreme Court to issue a "writ of prohibition" preventing any further action on leasing the cabin sites - leases for all the cabin sites expire at the end of this year, and new leases are being drafted now - until they are leased under terms meeting the requirements of the Idaho Constitution. After hearing the arguments from both sides today and asking plenty of questions, the justices took the case under advisement. Their average time to issue a ruling is 60 days.
---
---