Tue., June 22, 2010
Guv pledges education funding replacement; meets with women at Capitol event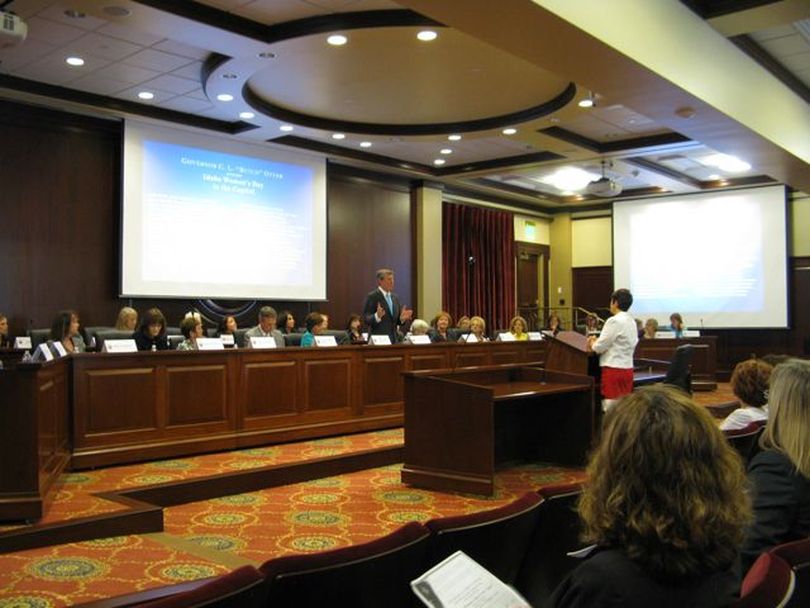 Close to 70 women turned out for Gov. Butch Otter's "Women's Day in the Capitol" today, at which 32 female officials of Otter's administration explained what they and their agencies do, and then the governor and officials took questions from the audience. Questions ranged from education policy to how the state seeks diversity in appointments to boards and commissions, to how the state can help its  most vulnerable residents. Addressing education, Otter told the crowd, "We made a commitment, both myself and the Legislature, that as soon as this economy turns around, education is going to get the first money replaced."

First Lady Lori Otter was asked why it's important for women to have leadership roles in state government. "You become the mentor for the next generation coming through," she said. "As far as I'm concerned, anything a boy can do, a girl can do better. ... You are only limited by the opportunities that you don't take." The governor said he wanted to respond to the "girl can do better" comment. "She only had three brothers - I had five sisters," he said to laughter.

Asked during a break about the representation of women in his administration, Otter seemed surprised and pleased to learn that of his 77 agency heads, 27 are women. Told that the average salary for the women is well below that of the male agency heads, Otter said he'd have to analyze it more, but he said, "I'm telling you this: If Nancy Merrill became the head of the Department of Corrections, she would get Brent Reinke's salary. ... If there's inequities, then we oughta correct them where we can and as soon as we can."

The governor told the audience, "We thought of having the Idaho Women's Day in the Capitol for the same reasons we have 'Capitol for a Day,'" his traveling event that he's taken to 40 counties so far. "The reason for that is to get access that folks normally wouldn't have."
---
---