Sat., June 26, 2010
Idaho GOP votes to oppose CIEDRA, GOP Rep. Mike Simpson's wilderness bill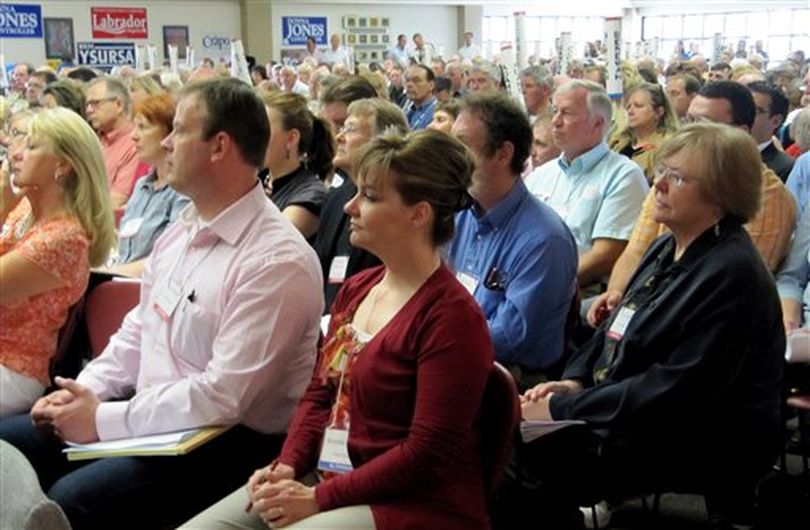 The Idaho Republican Party, at its state convention, has gone on record against the Central Idaho Economic Development and Recreation Act (CIEDRA), the collaborative wilderness and economic development bill long pushed by GOP Congressman Mike Simpson and currently unanimously backed by every member of Idaho's congressional delegation. Gov. Butch Otter, however, opposes the bill as part of his opposition to any new wilderness, regardless of circumstances. Click below for a full report from AP reporter Jessie Bonner.
GOP convention wades into Idaho wilderness rift
By JESSIE L. BONNER, Associated Press Writer

IDAHO FALLS, Idaho (AP) — A rift over whether Idaho should get a new federally protected wilderness seeped into the 2010 State Republican Convention.

A petition opposing the preserve was circulating Saturday even as the Republican behind the wilderness push, U.S. Rep. Mike Simpson, addressed the crowd.

Barry Peterson was among convention delegates collecting scores of GOP signatures in support of Idaho Gov. C.L. "Butch" Otter's opposition to the bill that would create a 331,616-acre wilderness in the Boulder and White Cloud mountains.

"I expect the delegates to be respectful of Congressman Simpson, everything will be in its proper decorum, but nonetheless, we want the governor to know that we support him in his opposition to the wilderness bill," said Peterson, a delegate from Elmore County.

The bill received a lukewarm reception at a hearing last Wednesday in the U.S. Senate's Subcommittee on Public lands and Forests last Wednesday. A letter from Otter to Idaho's congressional delegation in strong opposition to the bill arrived on the same day.

When asked Saturday about where the legislation is now, U.S. Sen. Jim Risch's chief of staff John Sandy said little has changed in the past week.

"It's waiting for more collaboration and more consensus," Sandy said.

Simpson, after addressing the convention, told The Associated Press he had not seen the petition but was confronted by some delegates with concerns over The Central Idaho Economic Development and Recreation Act, called CIEDRA.

The problem with their concerns is that they hinge on misconceptions about what the bill is and what it does, Simpson said.

"One lady said: 'Well, I heard from several members here that you and (U.S. Rep.) Walt Minnick signed a bill to give away a million acres of Idaho land to the federal government,'" Simpson said. "I said 'Where'd you hear this? That's just nonsense.'

"It's already federal land, we're not giving an acre to the federal government," Simpson said. "They don't know that it is already wilderness study area, treated as wilderness."

Simpson also points out that his proposal releases 130,000 acres from wilderness study area to multiple uses.

The Idaho Conservation League backs Simpson's plan to protect the environment, while preserving trails popular with mountain bikes and motorcycles and boosting the region's economic development. But some off-road vehicle groups oppose the bill, arguing more and more wilderness locks them out of places to ride or drive.

A resolution proposed by state Sen. Monty Pearce, a Payette County delegate, proposed a resolution to the full convention in support of the governor's opposition to CIEDRA. The measure passed, stipulating that a letter would be sent to governor to thank him.

Simpson has said that addressing Otter's concerns is his top priority, including provisions to let Idaho wildlife agents land helicopters to track wolves. But Otter, even with those concessions, has maintained he still won't support new Idaho wilderness.

"Gov. Otter and I have talked about this over the years. He is opposed to more wilderness and that's his position," Simpson said. "Even if we address all those concerns, he's still going to be opposed to it because it's wilderness and that's just the way it goes."

Copyright 2010 The Associated Press.
---
---