Sat., June 26, 2010
Otter speech at GOP convention skips mention of Labrador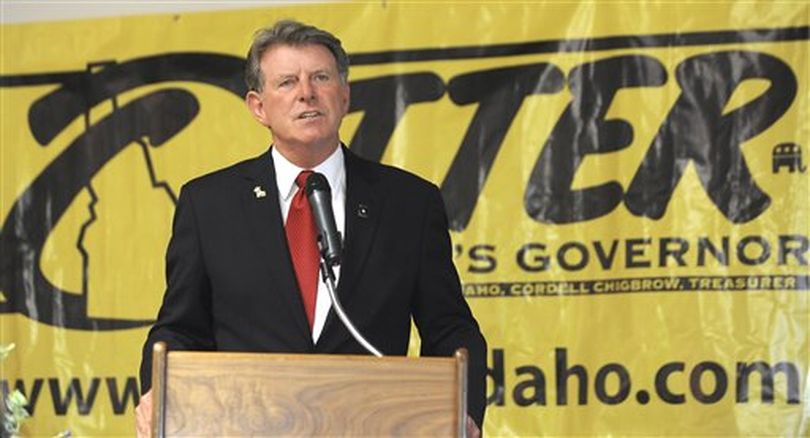 At the GOP convention in Idaho Falls yesterday, Gov. Butch Otter called on Republicans to unite and mentioned Congressman Mike Simpson and Sen. Mike Crapo, both of whom are up for re-election. But he didn't mention Raul Labrador, the GOP candidate for the 1st District congressional seat - departing from his prepared text that included mention of Labrador, who is in Idaho's toughest political fight of the year, the Associated Press reports. Click below to read a full report from AP reporter Jessie Bonner.
Otter calls for Republican unity at convention
By JESSIE L. BONNER, Associated Press Writer

IDAHO FALLS, Idaho (AP) — Gov. C.L. "Butch" Otter called on Republicans to unite and stand up for each other during his address to the state party's convention.

Otter gave a nod to Rep. Mike Simpson and Sen. Mike Crapo, who are both facing re-election, and thanked them for their service in Washington, D.C. But he left out a specific mention of U.S. House hopeful Raul Labrador, who is in Idaho's toughest political fight of the year.

Labrador beat GOP rival Vaughn Ward in their May primary to go up against incumbent U.S. Rep. Walt Minnick, Idaho's lone Democrat in Congress.

Just how fervently Otter, whose wife endorsed Ward in the primary, stands behind Labrador during this campaign season is of interest — the two have tangled in the past.

Labrador helped oust then-Chairman Kirk Sullivan during the last Republican convention in 2008, defying GOP standard-bearers like Otter, who backed Sullivan.

Labrador was also a vocal opponent of the governor's plan to raise Idaho's gas tax and vehicle registration fees to fund road work during the 2009 Legislature, calling it a gift to special interest groups.

After the speech, Labrador was reluctant to comment on Otter's move not to mention him by name or promote his candidacy.

"He didn't talk about any candidates," Labrador said.

A copy of Otter's prepared remarks included sentences endorsing Labrador in his race for Idaho's 1st Congressional District, but the governor largely deviated from the full text of the prepared speech.

Otter said not to read too much into his neglecting to mention Labrador; it wasn't a sign that he was distancing him from the Eagle immigration lawyer.

Otter plans to stump for Labrador on occasions where it fits into his busy work schedule — he's still got a job in the state Capitol — and his own political campaign in which he's running against Democratic gubernatorial hopeful Keith Allred.

"I ride for our colors. I ride for our brand," Otter told The Associated Press after the speech. "Don't concentrate on what I didn't say. Concentrate on what I did say."

The governor's address to party delegates underlined his opposition to federal initiatives, including President Obama's push to reform health insurance that includes mandates to buy coverage. Idaho and more than a dozen other states are suing over that plan.

Otter lauded state lawmakers and maintained that cutting budgets, rather than raising taxes, set Idaho on a course to lead the country out of the recession.

"It's taken a lot of courage in the last three and a half years for us to keep our eye on the ball and for us to ignore much of that editorial policy that said spend all the money and spend it today, don't worry about tomorrow," Otter said. "We didn't do it."

Otter has been in public office continuously since 1987, including four terms as lieutenant governor and three as U.S. representative starting in 2000.

He told delegates that even then, when he was a congressman, it dawned on him that the government's free-spending habits and hunger to extend its power made it an unlikely springboard for politicians like him to fix what was wrong with America.

"In those six years that I spent there I knew we were not going to be able to save this great Republic from Washington, D.C.," he said.

He urged delegates to have the courage to stand up and defend one another and the party.

"This is the time and this is the place in the when we've got to come back together. "We've got to take those champions that we've painted with our colors through that primary race and those victors and we've got to get behind them," Otter said. "Because there's so much, so much at risk if we don't."

___

Associated Press writer John Miller contributed to this report.

Copyright 2010 The Associated Press.
---
---