Wed., March 17, 2010
Otter: 'A high priority on sovereignty'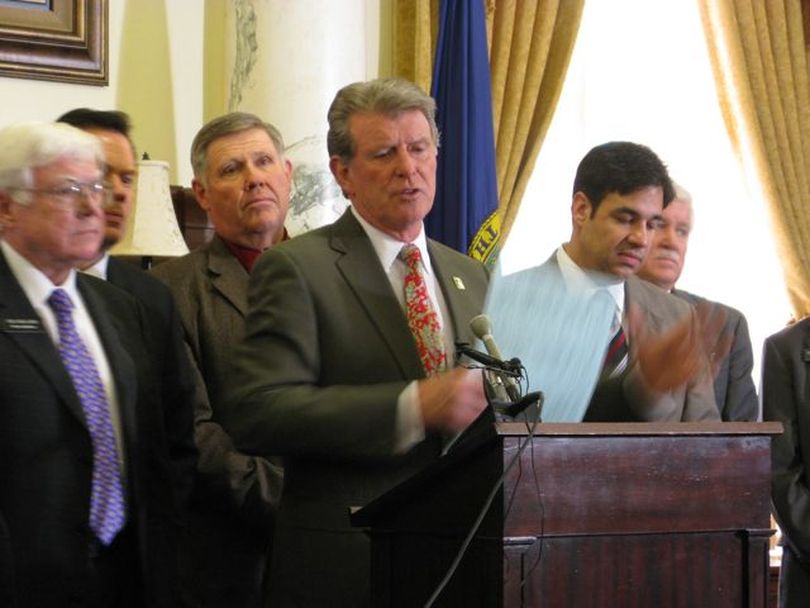 Gov. Butch Otter is holding his first public signing ceremony for a bill - for HB 391a, the "Idaho Health Care Freedom Act." The bill prohibits the enforcement of any federal mandate for Idahoans or Idaho businesses to purchase health care, and requires the state Attorney General to go to court to fight any such requirement. "It's my pleasure to be able to sign this bill today," Otter said. And despite the state's budget crunch, he said he's OK with spending money on the court fight, which the bill estimates may cost $100,000. "I am comfortable with it," Otter said. "I think to protect the people of Idaho, which is one of our obligations as a government, is the right thing to do." He added, "I put a real high priority on the sovereignty of the state of Idaho." Otter said about 30 other states are considering similar measures; when informed that he may be the first state governor to sign one into law, he said, "If I am, I'm glad."

Otter noted that states are increasingly passing legislation calling for increasing state rights and asserting state sovereignty. "The ivory tower folks will tell you, no, they're not going to go anywhere," Otter said, "but I'll tell you, you get 36 states," and that makes a critical mass, he said.

Otter's gathered a slew of legislative sponsors of HB 391a to join him at the signing ceremony. Rep. Raul Labrador, R-Eagle, a congressional candidate, said of health care reform, "We're going to take care of this problem in the state and not through the federal government." Added Rep. Monty Pearce, R-New Plymouth, "This isn't where the federal government belongs."


---
---