Tue., May 11, 2010
Positions taken…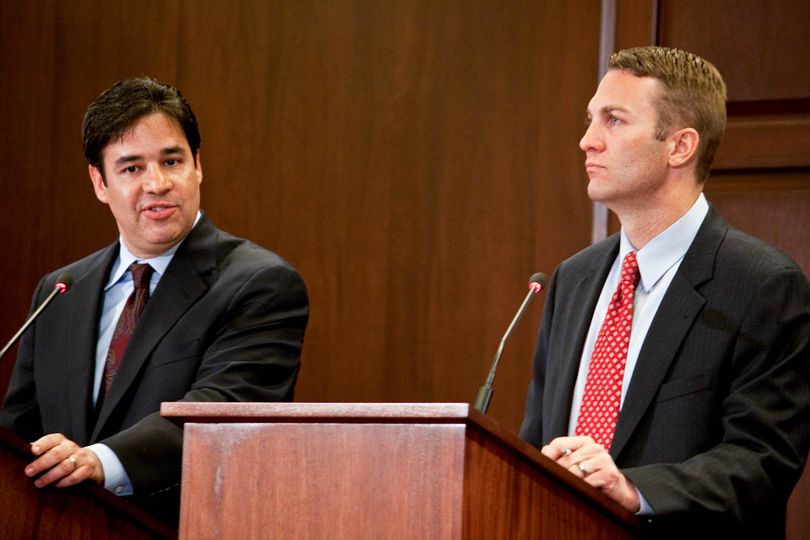 In addition to hot debate over immigration, qualifications, effectiveness and more, candidates Raul Labrador and Vaughn Ward took these positions in tonight's 1st CD debate: Neither candidate would pledge to limit his terms in office if elected; Labrador said he opposes term limits, while Ward favored a constitutional amendment to impose them. Both candidates opposed any additional Idaho wilderness, including Rep. Mike Simpson's Boulder-White Clouds bill, which the state's current congressional delegation unanimously supports. Both supported continued offshore drilling. Labrador ruled out any tax increases, even to save Social Security or Medicare for future Americans, and Ward said the nation should instead cut welfare spending and find efficiencies. Click below to read a full story on the debate from AP reporter Jessie Bonner.


(NOTE: AP has issued this correction for the following article: BOISE, Idaho (AP) — In a story May 11 about the 1st Congressional District debate, The Associated Press reported erroneously that Republican candidate Vaughn Ward said he wanted to ban earmarks in a January campaign ad. Ward actually told a campaign rally in January that earmarks ensure federal money goes to where it has state and local support. His ad calling for a ban on earmarks aired in May.)
Idaho US House candidates spar at debate
By JESSIE L. BONNER, Associated Press Writer

BOISE, Idaho (AP) — Republican U.S. House hopeful Raul Labrador came out swinging at a televised live debate Tuesday, sharply criticizing his opponent Vaughn Ward for a lack of political experience and for wavering on earmarks and other issues.

Ward, a U.S. Marine and former John McCain aide, countered that he had taken steps to correct mistakes on the campaign trail and jabbed at Labrador's stance on immigration reform. Ward also stressed the need for more veterans in Congress, not "status quo" politicians.

"I'm not infallible," Ward said. "There are going to be mistakes along the way."

The two are vying in the May 25 GOP primary to decide who will face U.S. Rep. Walt Minnick, D-Idaho, in November for Idaho's 1st District congressional seat.

Both Ward and Labrador, a GOP state House member from Eagle, emphasized the need to limit the reach and spending of the federal government. Neither said they would support raising taxes to help finance Social Security in the future.

But there are plenty of areas where they differ.

In the past several weeks, Idaho media have reported that Ward has made inconsistent remarks on earmarks and his stance on the repeal of the 17th Amendment, which shifted the job of electing U.S. senators from state legislatures to voters.

Ward said in a campaign ad in January that he wants to ban earmarks, which direct taxpayer cash from Congress to specific projects in members' states. But he later said at a campaign stop in Homedale that earmarks ensure federal money goes where it has state or local support.

"You have one candidate that's willing to do anything and say anything to get elected and you have one candidate that's willing to stand by his principals," Labrador said.

Ward also found fault with Labrador, accusing him of missing 40 votes in the 2010 Idaho Legislature.

One of those votes came during a committee hearing on an immigration bill that Labrador co-sponsored. The bill, which would have punished employers found guilty of knowingly hiring illegal aliens, failed in committee.

The debate was sponsored by the Idaho Press Club and the Idaho League of Women Voters.

Copyright 2010 The Associated Press.

---
---