Tue., May 11, 2010
They said it…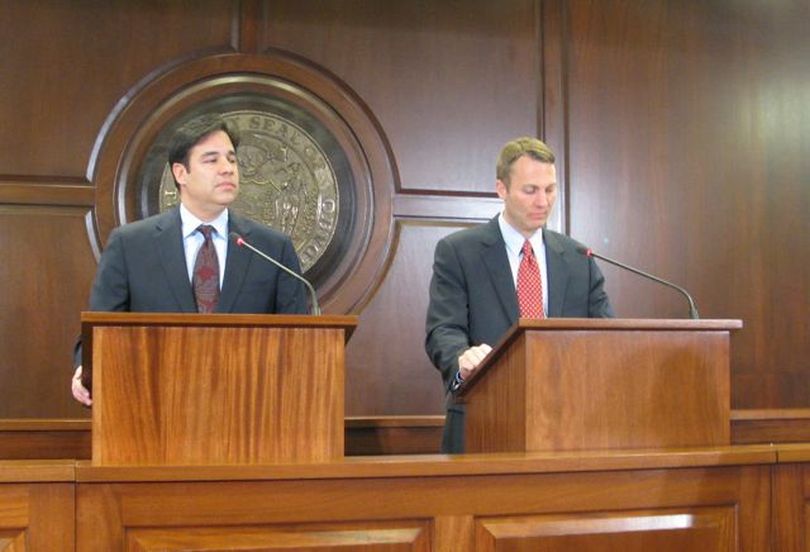 Here are some quotes from tonight's 1st CD debate:

Raul Labrador: "I think my conflict with the governor is the reason I should be the next congressman from Idaho. ... You have too many people who are willing to ... kowtow to the leadership in their party."

Vaughn Ward: "It's about honor of service, it's about the things that I've done in my life. ... My service to this nation, it has been honorable. ... I will fight for this nation, and I will stand up to the scrutiny, and I think that's what people do want, they want to know what's your measure."

Labrador: "His record is in the military, and I thank him for his service to the nation, but it's not in politics. ... I am willing to stand up even against my own party if I believe that my own party is not doing the things that are correct."

Ward: "I'm not a politician, never claimed to be. In the 1970s almost 80 percent of Congress were veterans. Today it's less than 22 percent."

Labrador: (On his continued support for repeal of the 17th Amendment, which instituted direct election of U.S. senators) "It's not something that I'm campaigning on ... it's not something that I'm going to go out there and draft a bill for. ... I will not change, even if my position is unpopular, and I saw that it was unpopular. ... You know what, I'm not here to please the editorial boards. ... I'm here to please the people of Idaho, I'm here to please my conscience and that's what I'm going to do as a congressman."

Labrador: "I am an immigration lawyer, that's what I do for a living, and my job is to walk people through the legal immigration system. ... What I do mostly is I tell people how to become legal in the United States. ... For the most part, I tell people to leave the United States, walk through the legal system. I though that's what Vaughn Ward and his supporters wanted. ... That's exactly what I have done."

Ward: "Illegal is illegal, and that's how I interpret it. And there are those to keep them in this country, i want to fight to keep them out the country. That's the consistent message that I have held throughout this race, and it is not defined by what I've done for my job."

Labrador: "If you're willing to say and do anything to get elected, you're willing to say and do anything once you're in Congress."

Ward: (After Labrador responded to a jab from Ward about his having missed four days of this year's legislative session by asking whether Ward's wife, Kirsten, missed days of work at her job at Fannie Mae to campaign for her husband) "More excuses, but at the end of the day, it's not about my wife."

Labrador: "She's the only one working."

Ward: (after Labrador suggested Ward favored a border fence to "enrich your friends, enrich the people who are with federal contractors") "Rhetoric's getting kind of thick in here if you ask me; as far as that is, I really don't know any fencing contractors at all."

Labrador: "I don't owe anybody anything, I don't owe anybody anything in Washington D.C. or New York anything. I only owe the people of Idaho."

Ward: "It's about that Congress is broken, it's about cutting the spending."
---
---