Tue., May 18, 2010
Gov. Otter's GOP challengers blast him at debate that he skipped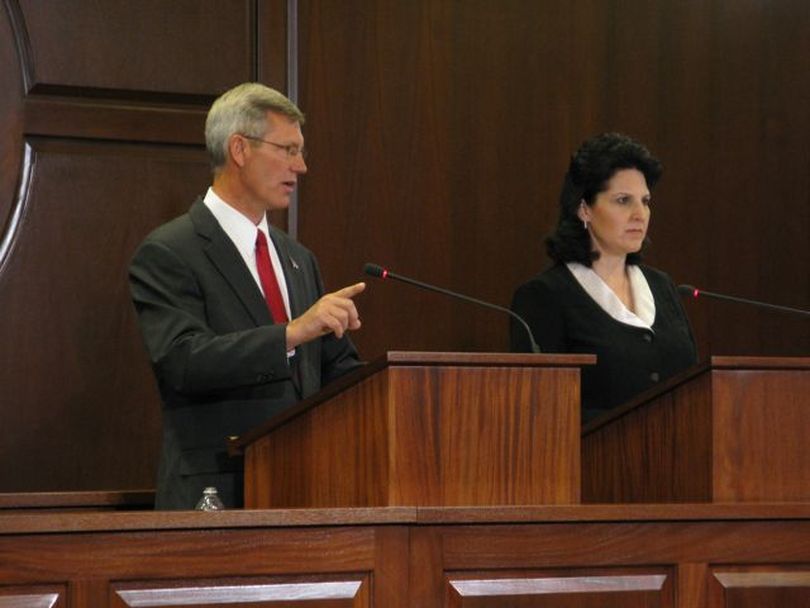 Two of Idaho Gov. Butch Otter's primary election challengers lashed out at him during a statewide debate Tuesday night, while Otter declined to participate in the matchup that aired live statewide on Idaho Public Television. "I'd like to ask him why he thinks he's above having his ideas challenged by the public," said GOP challenger Rex Rammell, a veterinarian from Rexburg. "Isn't it the responsibility of the top elected official of the state of Idaho to let the people know what your ideas are? ... Why didn't you show up for this?"
Sharon Ullman, a Republican Ada County commissioner, said she wished she could've asked Otter if he'll really serve a full four-year term if he's re-elected. "There's a strong rumor going around that he plans to ... step down and let the lieutenant governor become governor," she declared. Rammell and Ullman bashed Otter for proposing a gas tax increase in 2009; for failing to attract more jobs to the state; for proposing increasing counties' costs for indigent health care; and for not being hostile enough to the federal government; you can read my full story here at spokesman.com, and click below for some tidbits from the debate that didn't make it into my story.
Here are some tidbits that didn't make it into my story about tonight's gubernatorial debate:
 
While candidate Sharon Ullman called for tax incentives for small business start-ups, more efficiency in government and a system that provides incentives for people to stay healthy, rival Rex Rammell called for raising the sales tax to 8 percent and eliminating the income tax over the next three years; eliminating all or most of the state Department of Education and trimming public education down to the basics, with parents and local residents deciding if they want to fund or offer more; and said he thinks atheists and agnostics are unfit to serve in elected office.

"Those sort of people do not have the background to lead us," Rammell declared. Ullman responded, "I believe there is a place in America for people of all faiths and non-faith."

Both candidates said they thought they could work well with the Legislature, with Ullman citing her current working relationship with her fellow county commissioners and saying some lawmakers support her now, but don't want to go public against the current governor. Rammell said he thought he'd get along better with the House than the Senate because it's more conservative; he said Reps. Dick Harwood, R-St. Maries; Phil Hart, R-Athol, and Lenore Barrett, R-Challis, have formally endorsed him.

Ullman maintained that more government transparency and more careful auditing could bring big efficiencies in government. At Ada County, she said, "We cut $30,000 just by right-sizing our phone service." Rammell said, "People can bank on this: There will never be a tax increase if I'm the governor of Idaho, under any circumstances. I will veto every bill that's brought to me. ... That's off the table." He said he thought Idaho could fund needed road repairs if it could "eliminate to a large extent the role that the federal government plays in Idaho's roads."

Rammell said he support an Arizona-style anti-illegal immigration law for Idaho. "I think it's time that we stop trying to be politically correct in this country and start trying to do the right thing," he said. Ullman said she has faith in the Idaho Legislature to pass appropriate laws on the immigration issue, "something the governor doesn't have. In 2009 he held the Legislature hostage to raise taxes."
---
---