Wed., May 26, 2010
Ward: 'I learned a great deal from this experience'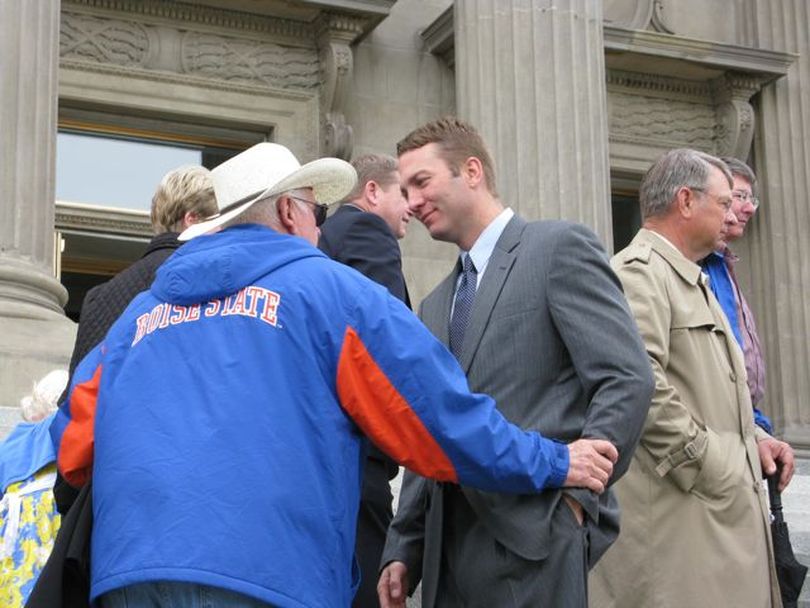 Candidate Vaughn Ward had this to say today about his unsuccessful run for the 1st Congressional District seat: "I'm very proud of everything that happened with this race, the campaign, the people that were part of this race, the volunteers we've had throughout this entire time. We started 15 months ago when nobody gave me a chance and we couldn't talk to anybody other than Idahoans that believed in us and we took a message forward to them, and they got excited about it and we built a great campaign. And I'm just proud of all the work we put into it."

Asked about the widely circulated video mash-up - featured last night on the Tonight Show with Jay Leno - that spliced together phrases from one of his speeches with similar turns of phrase in a 2004 speech by then-Sen. Barack Obama, Ward said, "I don't care what the national press says. ... I think we were on Chris Matthews as well, Hardball. I realize that some of the mainstream media out there, they have an agenda and I'm fine with that. But again, I'm proud of this race, I'm proud of what the many volunteers gave to this race, and I learned a great deal from this experience, and I'm just proud to be a part of another level of service that I've given to my country."

Ward told Eye on Boise, "You know, I think things unfold differently than you hope they would. ... Did I learn stuff? Of course I did. Were there mistakes made? Yes, there were, and I own the responsibility for everything. You hire people and you hope that they do a good job for you, and when they don't, you make those corrections, but I'm not the first one to have had staff that didn't perform as expected, and I don't blame anybody, I blame myself." Ward said earlier that he wrote his own speech, but a staffer added things to it, including the turns of phrase that echoed Obama's words; his campaign manager resigned after The Spokesman-Review reported that half the position statements on his website were copied from the sites of other candidates or congressmen.

Asked why he pointed to the "mainstream media" with regard to the video mash-up when it was created by a conservative activist Lucas Baumbach, who's also a GOP legislative candidate in Idaho and a Labrador supporter, Ward said, "I don't know who put it together ... it doesn't matter, it's beyond us now, we've moved on." He added, "It's a chess game, politics is, and I think there were other elements afoot. And at this point, today's May 26th, it's not May 25th." When Eye on Boise asked what he thinks of this chess game and whether he'd ever like to play it again, Ward said, "We'll see."

For now, he said, his future plans involve a camping trip with his family in North Idaho.


---
---