Mon., Nov. 15, 2010
Senator back on dry ground after eventful cruise experience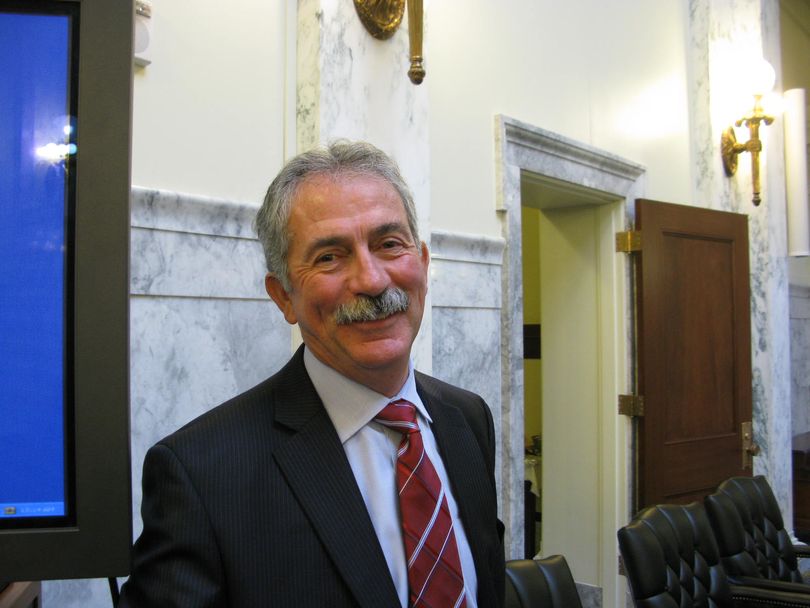 Idaho Sen. Jim Hammond is back on dry ground and in the light, after a sojourn on a Carnival cruise ship that drifted powerless for days. Hammond, during a break in this morning's JFAC hearing, said it was his first cruise in 15 years, and the experience wasn't what he expected – cold sandwiches, salads and cereal, card- and dice-playing in relative darkness, and only cold water. He and his wife Cyndie joined three other couples on the cruise, and with their full refunds, already are planning to try again. "I don't think we'd go on the Splendor again," Hammond said of the ship.
With 3,200 people aboard, "People were really good – nobody panicked," Hammond said. But there were waits of a couple of hours for a plate of cold food, and Hammond was really glad he'd spent the extra money for an outside cabin with windows and a small balcony – inside cabins were left in total darkness. After the ordeal, the Hammonds spent a night at a hotel in San Diego, and ironically, when they woke up, the power was out. "So once again, I showered and shaved in the dark," he said with a smile. "At least I had hot water."

He chuckles about the attention the incident got, considering no one was hurt and worldwide, many live in worse conditions day in and day out. "It was just more of an embarrassment for Carnival," Hammond said.
Idaho senator among passengers on ill-fated cruise
JESSIE L. BONNER,Associated Press
BOISE, Idaho (AP) — State Sen. James Hammond missed part of a legislative budget meeting Monday, but he had a good excuse: He had been aboard a cruise ship that was stranded off the California coast until late last week.
The northern Idaho Republican didn't get home to Coeur d'Alene until late Sunday and caught a flight to Boise, nearly 400 miles to the south, this morning for the Senate and House Joint Finance-Appropriations Committee meeting.
Hammond promised his wife they would take a cruise on their 25th wedding anniversary in 2008, but the couple didn't get around to the trip until this year, when they bought tickets on the ill-fated Carnival Splendor.
"I haven't been on a cruise in 15 years," Hammond said.
An engine fire disabled the ship 200 miles from San Diego last Monday.
"At 6 a.m. there was an explosion, a bang, so we stepped outside," Hammond said. "We could see smoke coming from the back of the boat and then we looked inside, down the hall and could see smoke all up the stern."
Tugboats hauled the 952-foot cruise liner into a San Diego dock Thursday. There was no power, no hot showers and no hot food while the ship was stranded.
Hammond survived on salads, cold cereals and sandwiches that were composed mostly of bread, he said.
"I gained more weight than I would on a normal cruise because I ate so dang much bread because that's all there was to eat," said Hammond, a first-term state senator. "We were kind of sitting ducks out there in the water."
The passengers will receive full refunds and a free future cruise.
After they were brought to shore, Hammond said he and his wife decided to book a room at a San Diego hotel for the weekend and salvage some of their vacation. The couple woke up to a power outage Sunday morning.
"So once again, I shaved and showered in the dark," he said. "But at least I had hot water."
Copyright 2010 The Associated Press.
---
---