Mon., Nov. 22, 2010
40-year-old entrepreneur makes $40 million cash offer for Tamarack Resort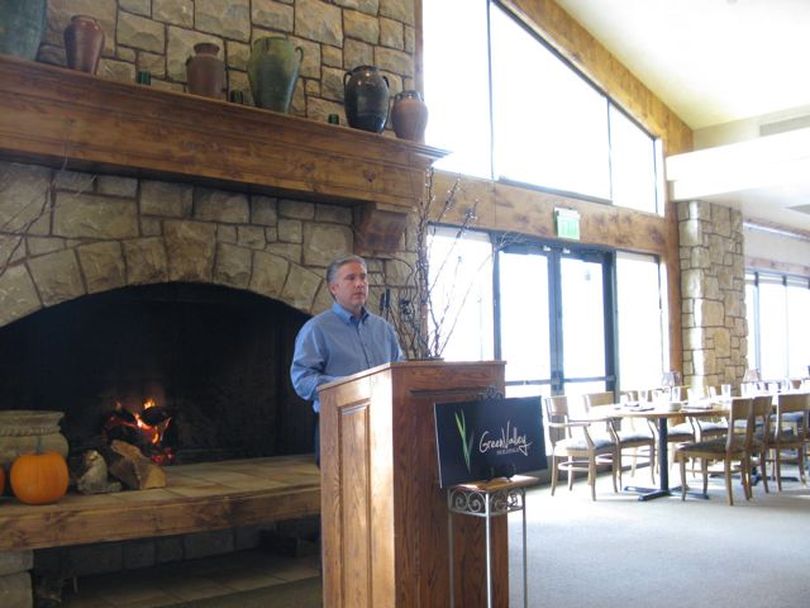 That was a very strange press conference. Matthew Hutcheson, co-founder of Green Valley Holdings, took no questions from the press. Instead, he made a statement, then posed to himself and answered a series of questions, such as whether "JP" would be involved in the resort in the future. "We do not anticipate that he will be involved," was the answer; JP is Jean-Pierre Boespflug, Tamarack Resort founder and former owner.

Hutcheson said he and his partners - his wife, Annette, and Larry, Scott and Rod Givens - are offering $40 million cash for Tamarack Resort, which he termed a "fair price." He acknowledged that none of them have experience running a resort, but said they've "assembled an initial team of experts," and if their offer is successful, they'll bring in others with expertise "to make Tamarack a successful and viable going concern."

Hutcheson is an independent fiduciary, a 40-year-old entrepreneur, an advocate of 401K reform and a bit of a mystery; check out this article from August in Retirement Income Journal headlined "The Gospel of Matthew Hutcheson."

Hutcheson said today, "My professional career has been dedicated to securing and if possible enhancing the financial security of American workers." He cited his push for regulatory reforms, and the insecurity Idahoans and others face in planning for secure retirements, particularly in this time of economic downturn. "We believe Tamarack's future can be secured by taking a benevolent approach," Hutcheson said, though he did not elaborate. He said he hopes to "enhance hope and economic vitality in Valley County."

Green Valley Holdings LLC was established specifically to purchase Tamarack, Hutcheson said, finish construction projects there including the base village, and restore jobs. "This is a special property to us and for the state of Idaho. ... We intend to be stewards of Tamarack, prudently safeguarding its resources," he said. "Significantly greater work and investment lies ahead if our bid is accepted." He said his offer calls for closing the sale no later than March 15, 2011.
---
---