Tue., Oct. 5, 2010
The debate for state schools chief…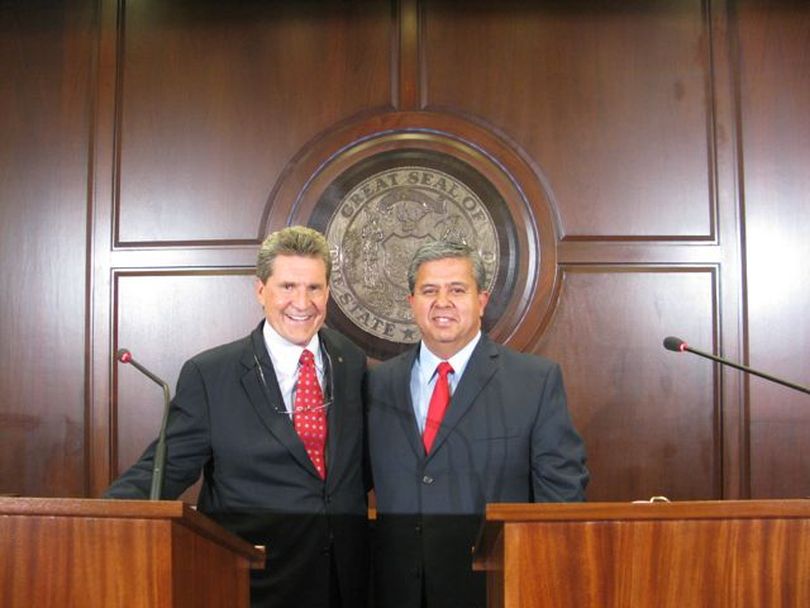 Here's a link to my story at spokesman.com on the debate tonight between the two candidates seeking to lead Idaho's school system for the next four years, and you can click below for a full report from AP reporter Jessie Bonner. Tonight's live debate was the first in a series; the "Idaho Debates" continue on Thursday with candidates for Secretary of State and Lieutenant Governor facing off, followed in the coming weeks by the candidates for U.S. Senate, Congress and governor. The Idaho Debates are sponsored by the League of Women Voters and the Idaho Press Club, and are broadcast live statewide on Idaho Public Television; click here for more info.
Luna, Olson vie for Idaho's top education post
By JESSIE L. BONNER, Associated Press Writer

BOISE, Idaho (AP) — Public schools chief Tom Luna and his Democratic challenger, Stan Olson, sparred over deep cuts to K-12 education during a debate Tuesday for Idaho's top elected education post.

Olson sharply criticized Luna's leadership amid deep budget cuts for public schools, saying the Republican should have put a strategic plan in place to guide school districts.

"My question is, 'Where were you three years ago? Four years ago? When districts saw the trouble?'" Olson asked during the debate aired live on Idaho Public Television.

Luna countered that Idaho did have a plan, and state lawmakers had the foresight to create a rainy day account to hedge against the hard economic times that came about during his tenure as superintendent of public instruction.

As soon as he took office in January 2007, Luna said he relied on his business background in looking for inefficiencies. His search yielded roughly $300,000 in savings from his own department, he said.

"We put it into the classroom," he said.

Luna also touted his ability to find new money for public education. During the most recent session, for example, he said he convinced the Idaho Board of Land Commissioners to dip into a state land endowment reserve fund and release an additional $22 million to help Idaho's K-12 public education system.

"I was able to identify a source of revenue that nobody had considered," he said. "I'll continue to turn over every rock. I'll shake every tree."

While Luna was able to funnel new money into public education, Olson supporters point out that he was also at the helm when lawmakers cut about $128 million from the schools budget for the current fiscal year and slashed total spending on public education for what they believe is the first time in Idaho history.

"We have to stabilize education and stop the hemorrhaging that's going on, particularly in our rural school districts," Olson said during the debate, which was also sponsored by the Idaho Press Club and the League of Women Voters.

Olson, who retired as Boise School District superintendent earlier this year to run for office, said the problem with public education drills down deeper than funding.

Luna often boasts scores from Idaho Standards Achievement Tests as proof that Idaho public schools have made strides in student achievement during his tenure. More than two-thirds of Idaho public schools are making gains under the federal No Child Left Behind Act as they head into public education's worst budget year.

But Olson contends the assessments set a low bar and do not gauge how much students have improved year-to-year. There should be multiple assessments to help teachers understand where students are succeeding and where they need help, and they should include a measurement of "post-secondary readiness," Olson said.

"We need to do better," Olson said. "We are cheating the children of the state."

Copyright 2010 The Associated Press.
---
---