Wed., Oct. 6, 2010
Romney stumps for Otter in Boise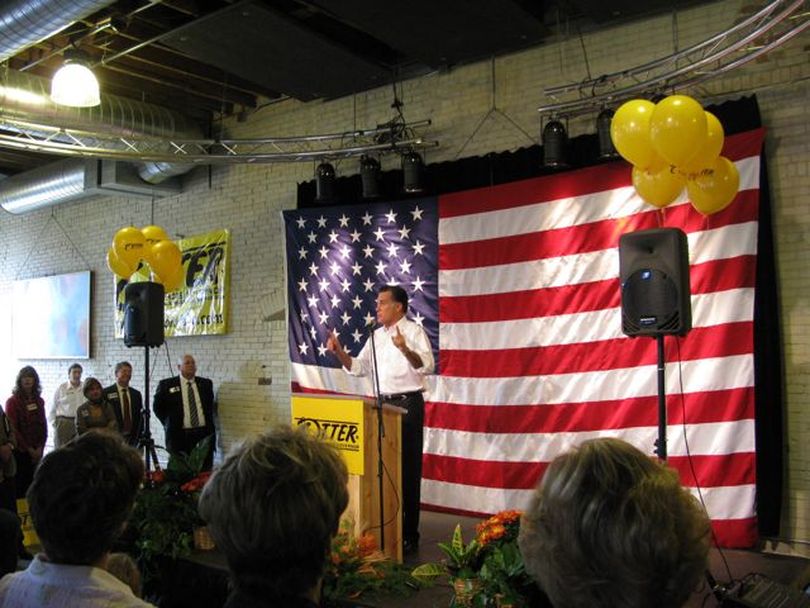 Idaho Gov. Butch Otter brought in former presidential candidate Mitt Romney to stump for him today in Idaho Falls and Boise, in an effort to pump up support among LDS voters in southern and eastern Idaho. Idaho Falls businessman Frank VanderSloot, who hosted the Idaho Falls campaign stop at his Melaleuca Inc. headquarters, rallied the crowd in Boise, saying Otter's Democratic challenger, Keith Allred, has been sending eastern Idaho Mormons the message, "I'm Mormon so vote for me because I'm one of you guys." VanderSloot said, "My answer to that is, well, Harry Reid is a Mormon."

A third of Idaho's population belongs to the Church of Jesus Christ of Latter-day Saints, of which Romney and VanderSloot are members, as is Allred; Otter is Catholic. Allred, who is running as a Democrat but has made his mark as a non-partisan citizen activist, has recently announced the support of a number of prominent eastern Idaho Republicans, many of whom are LDS. The recent Idaho Newspapers Poll showed Otter ahead of Allred statewide 45 percent to 29 percent, but in southeastern Idaho, that lead shrank to 42 percent to 36 percent.

Romney, who also came to Idaho to campaign for Otter when he first ran for governor four years ago, told a crowd of more than 100 at the Linen Building in Boise, "People recognize we've got a chance to get this country on the right course again." He criticized "liberals," and said, "They're smothering the spirit that makes America such an engine of vitality and growth, and we're not going to let them do that." He said, "When things are tough ... that's when you test the real mettle of a leader," and said Otter showed his leadership as governor by making "sure that the state government lives within its means."

Otter, speaking after Romney, called up the four statewide elected officials who were in the audience - Secretary of State Ben Ysursa, Superintendent of Schools Tom Luna, state Controller Donna Jones and Attorney General Lawrence Wasden - to join him, and said, "We're asking you now to keep this team together. ... The last four years this team, along with the state Legislature, has had to make some tough decisions." The Boise rally, which was free, followed a luncheon at Chandler's steakhouse downtown for big-dollar campaign contributors, at which Otter spoke and Romney mingled; about 60 people attended. In Idaho Falls, Otter campaign spokesman Ryan Panitz estimated 400 to 500 people attended a rally in a large auditorium at Melaleuca, about a quarter of them Melaleuca employees.


---
---