Thu., Oct. 28, 2010
Things getting lively at debate…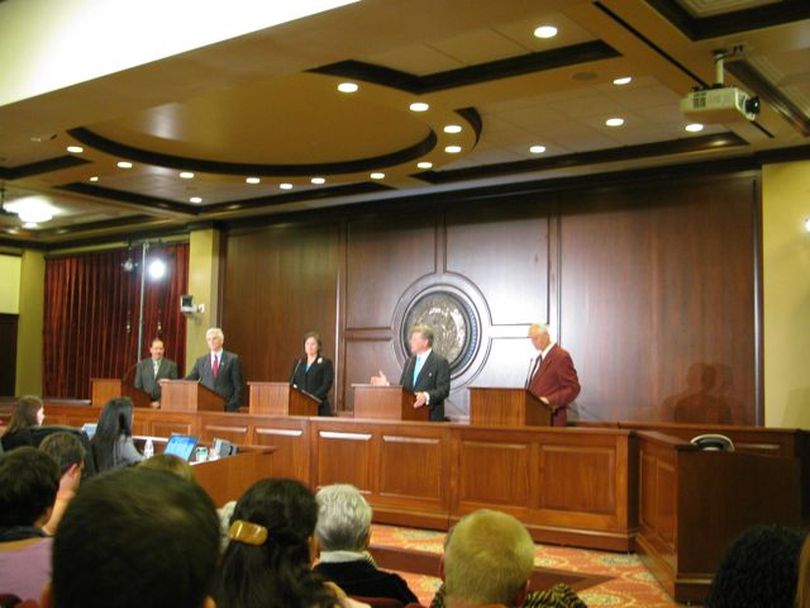 Asked what evidence there is that the "doom and gloom forecasts" used to set the state budget were fiscally irresponsible, Keith Allred said, "The last three months of revenue. ... We are $14 million ahead of the projections that were made in August." Jana Kemp put in, "When we were in the Legislature we talked often about how you can't bet on money that hasn't come in." At that, Otter yelled, "Yeah!" and started clapping. "No applause," cautioned moderator Thanh Tan, to which Otter responded, "You told the audience, not us."

Allred said, "You can't spend money that you don't take in. ... Butch Otter said ... if money comes in, then at that point we could go ahead and spend it." Now, he said, "The money is sitting there," despite cuts in education that have reduced instruction time. "What are you doing to do about it?" he asked Otter. At that point, Pro-Life commented, "I think this is pretty boring and people are probably turning onto the ballgame."

Otter said, "I'd like to respond to that." He said Idaho's exceeding revised projections, but not his budget. Allred said the state's now exceeding both.
---
---