Fri., Sept. 24, 2010
Teachers rally for Olson, decry school cuts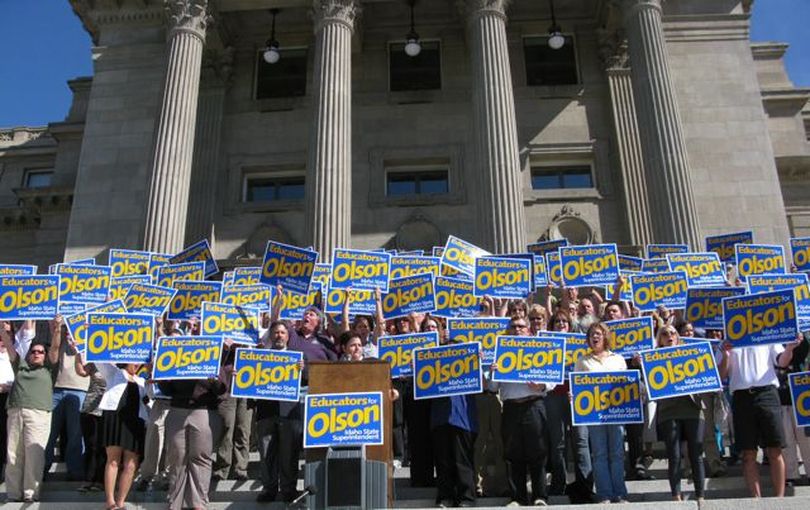 Idaho schoolteachers are coming out in force behind the candidacy of just-retired Boise school superintendent Stan Olson for state superintendent of schools, against incumbent Supt. Tom Luna. At a rally on the Statehouse steps today, more than 100 teachers from 75 school districts around the state gathered to kick off an independent campaign for Olson, announcing that an Idaho Education Association survey of its 13,000-plus members found that nearly eight in 10 teachers back Olson, and fewer than 5 percent plan to vote to re-elect Luna. All said they're concerned about Idaho's historic cuts in public school funding, which are hitting classrooms this fall.

"Idaho educators are outraged that Tom Luna presided over the first-ever cuts to our public schools," said IEA President Sherri Wood. "They happened because our children and our schools lack an advocate in the state superintendent's office." Teachers at the rally decried rising class sizes, higher fees for families, shrinking school bus routes, cuts in funding for books and classroom supplies, and shortened school years. Josh Noteboom, head of the Kuna Education Association, said, "Unfortunately, it's the students who are taking the greatest hit." He said in his district, "Our class sizes are growing to numbers of nearly 40." "Is this really what we want for education?" asked Shannon Nicholson, head of the Meridian Education Association, who declared, "It is time for a change."

Andrew Rath, head of the Boise Education Association, said 83 percent of Boise teachers already have   decided to back Olson, their former boss. Candy Turner, a first-grade teacher at Priest River Elementary School who participated in the rally, said, "I believe in public education, and I feel that kids in Priest River have been neglected through the cuts that have come down. We need to educate these children, so that they can compete in the nation and in the world." Wood said the IEA's independent campaign in favor of Olson will include advertising, events around the state, direct mail and a website, EducatorsForOlson.com.

---
---