Fri., April 8, 2011
Referendum drive launched to overturn SB 1184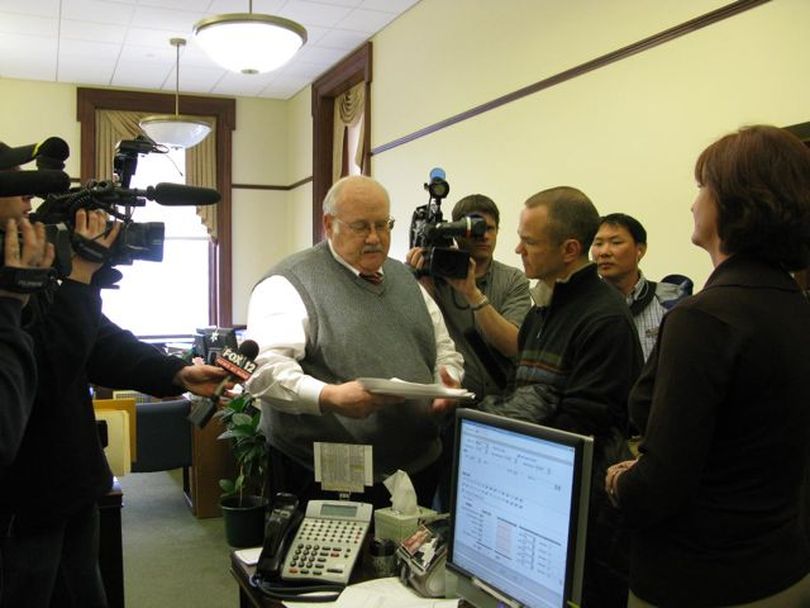 No sooner had Gov. Butch Otter signed SB 1184, the third major school-reform bill, into law, than a new group of parents and teachers calling itself "Idahoans for Responsible Education Reform" had delivered the preliminary paperwork to the Idaho Secretary of State's office for a referendum seeking to overturn the new law. "Frankly, this is very much a parent-driven effort," said Mike Lanza, a Boise father of two who's joined Boise parent Maria Greeley to form the new group. Secretary of State Ben Ysursa received the documents and said, "We'll expedite this ... the clock is ticking." The referendum supporters now have 60 days from yesterday to gather 47,432 signatures from registered voters to overturn each of the three main school reform bills, SB 1184 on technology and online learning, SB 1110 on teacher merit-pay bonuses and SB 1108 removing most collective bargaining rights from teachers.

"We are here because thousands of emails, thousands of people attending rallies across Idaho, and the testimony of parents, school board members, school administrators and teachers did not matter to Gov. Otter and the majority of the state Legislature," Lanza said. "Idahoans made it clear that we do not want to trade teachers for laptops and required online courses. And we do not support laws that accomplish little beyond denigrating teachers. The governor and Legislature rammed this plan through against the overwhelming opposition of the public. They passed it despite being told by administrators and teachers who will have to implement this poorly designed plan that it will be a financial and educational disaster for Idaho's public schools."

He said, "The truth is we should not have to pursue this referendum effort. We should be able to rely on our elected representatives to respect the will of their constituents. By signing the last bill this morning, Gov. Otter sent a clear message that he, Supt. Luna and their supporters in the Legislature have chosen their political agenda over public opinion."

---
---