Wed., April 27, 2011
Megaloads testimony: 'We learn the most from setbacks'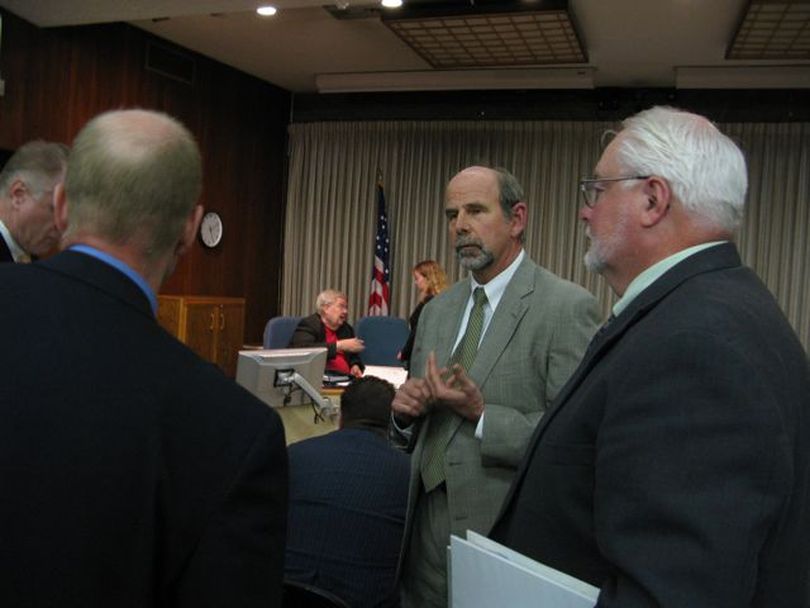 Today's testimony in the Highway 12 megaloads contested-case hearing has wrapped up, but lawyers aren't done questioning ITD motor vehicle administrator Alan Frew, who'll be back for more in the morning. Here, the lawyers huddle to go over tomorrow's schedule at the conclusion of today's testimony; in the background is the hearing officer, retired Judge Duff McKee. You can read my full story here at spokesman.com.
Frew, in his testimony today, said, "I believe that the test validation module is serving its purpose. It hasn't completed its move throughout the state, but it's well on its way. There was a great deal learned." That module, which is designed to match the dimensions of Imperial Oil/ExxonMobil's tallest, longest and widest megaloads of oil equipment, stalled for two weeks after knocking out power to two Idaho towns; it resumed travel last night, after 16 utility lines were raised and after extensive tree-trimming in the scenic river corridor. "It's unfortunate, but we seem to learn the most from setbacks," Frew said, "I was very concerned about the setback. It was unexpected and unfortunate. But we learned a great deal from that, and in my mind, it ensures the safety of the remaining move and the remaining moves."

Asked by megaloads opponents' attorney Laird Lucas how many more megaloads are coming as part of the Exxon project, Frew said, "In my memorandum of decision I identified 200-plus moves." The number could grow, he said, depending on how many loads the company chooses to cut in half. "That's kind of a moving target," he said.

Under questioning, Frew said ITD has discretion to deny an over-legal load permit on the basis of public convenience, but he's not aware of the department ever doing so.
---
---