Tue., Aug. 9, 2011
Idaho's high court installs new chief justice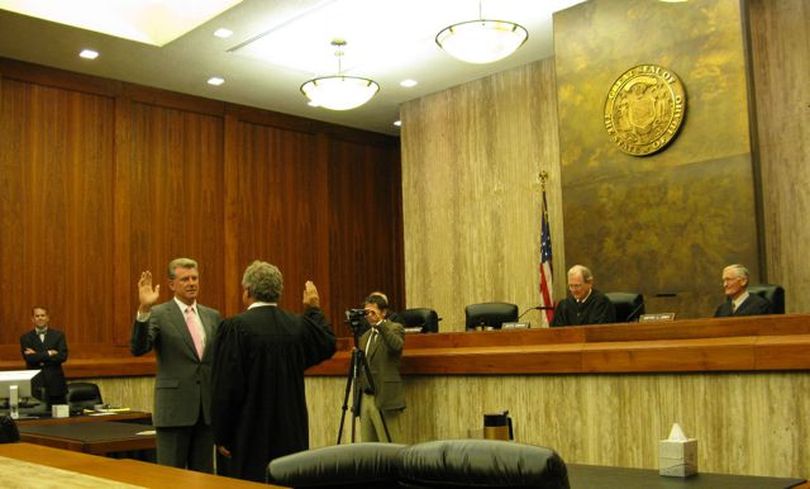 Today, Gov. Butch Otter administered the oath of office to new Idaho Supreme Court Chief Justice Roger Burdick, who takes over from Chief Justice Daniel Eismann, who remains on the court after serving four years as chief justice. Burdick, in brief remarks after taking the oath, said, "I also wish to recognize Chief Justice Eismann, newly demoted Chief Justice Eismann." Amid laughter in a full courtroom, Burdick said, "I can't help but refer to him as chief. He has done such a remarkable job in light of so many personal challenges in the last four years. ... I will try to continue in that vein and to that high expectation."

Eismann survived a bout with cancer during his term but continued serving; the illness was related to Agent Orange exposure during his combat service in Vietnam as a crew chief/door gunner on a Huey gunship. A judge for the past 35 years, Eismann was first elected to the Supreme Court in 2000, and was unopposed for re-election in 2006.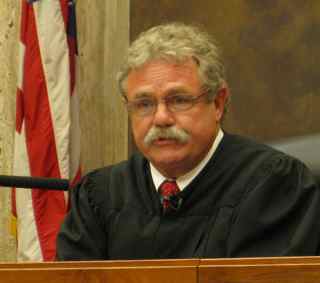 Burdick said, "Idahoans are independent by nature and conduct, and so is your Idaho judiciary." He said the state's courts show their independence "in fashioning creative ways to solve the citizens' problems, from days' pay forfeited during the budget crisis, to working with the Idaho Department of Corrections for new and innovative ways to best protect society for the least cost. ... We fashioned administrative solutions to Idaho problems based upon Idaho needs, based upon Idaho constraints, and used the best practices available in the nation." He thanked his colleagues on the court who elected him to the chief's position, and the family and friends gathered for the investiture ceremony. "I'm fully aware of the large responsibility I've been honored with by these justices," he said.

Burdick has been an Idaho judge for 30 years; he was appointed to the high court in 2003 by then-Gov. Dirk Kempthorne and was re-elected in 2004 and 2010. A former county prosecutor, public defender, private practice attorney and state water adjudication judge, he holds a degree in finance from the University of Colorado and is a graduate of the University of Idaho School of Law.

---
---