Fri., Feb. 25, 2011
Testimony: 'Oligarchy,' 'I will go to jail,' 'Worse than Dracula,' 'Terribly irresponsible'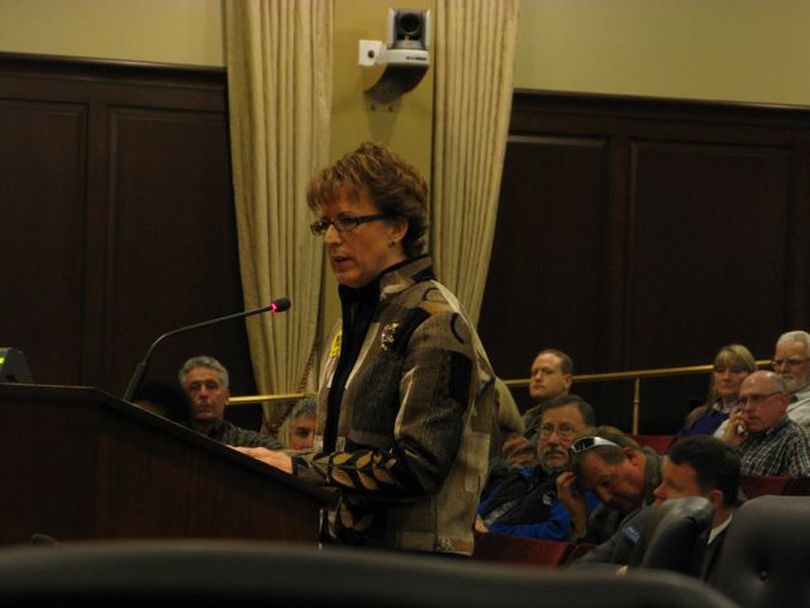 Among those testifying so far at the hearing this morning on HB 117, the health care nullification law, was Leah Southwell of Coeur d'Alene, who told the Senate State Affairs Committee, "We have strayed so incredibly far from the original intent of our founding fathers. ... If the Supreme Court is the final arbiter then no longer are we a republic. We are an oligarchy ruled by a few." Southwell said, "Idaho has a choice and a chance to be the leader in freedom, to return back to those founding principles, to be the check on the federal government."

Jack Stuart of Meridian told the senators, "I will not accept or obey the health care law. I will go to jail. ... Give me liberty or give me death." As he concluded, there were loud whispers of "yes!" from the audience, which then broke out into applause and loud whistles. Committee Chairman Curtis McKenzie, R-Nampa, asked the crowd to refrain from showing approval or disapproval of the testimony.

Thomas Rogers of Nampa told the panel, "This is going to create a monster. It's going to be worse than Dracula." He urged the senators to "drive a stake through its heart," and said, "If the government will just get out of the way, we can do a better job."

The only person to testify against the bill so far was Donna Yule, executive director of the Idaho Public Employees Association. She told the committee, "If you pass this law and the governor signs it, that very day you will turns thousands of working Idahoans into criminals just for showing up to work in the morning." She called the bill "a terrible idea," and noted that an Idaho Attorney General's opinion said the measure could opt Idaho out of receiving more than $1 billion in federal Medicaid funds. "Idahoans' lives depend on that funding," Yule said. "It's terribly irresponsible for this body to put such a large part of Idaho's population at risk."
---
---