Wed., July 13, 2011
McGee comes under fire at county GOP central committee meeting, apologizes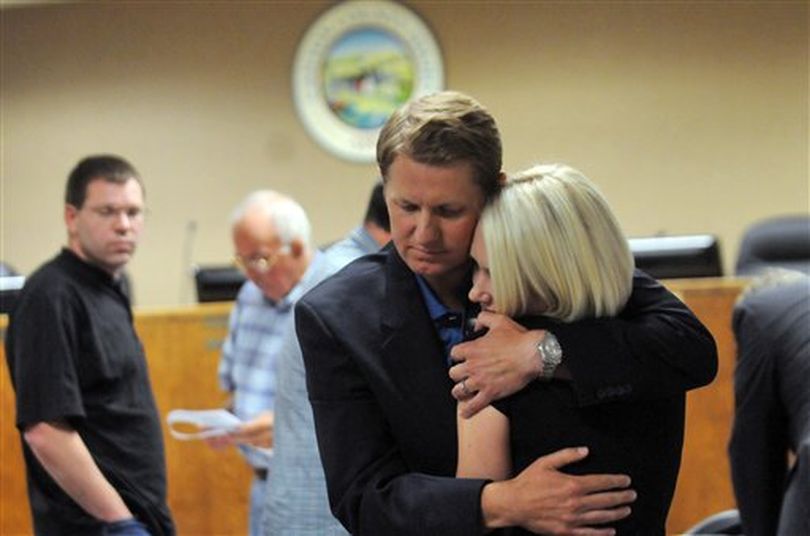 Idaho state Sen. John McGee, R-Caldwell, came under fire at a Canyon County Republican Party Central Committee meeting last night, but succeeded in heading off a move by committee member Ronalee Linsenmann for an immediate vote on an investigation into McGee's recent drunken driving arrest and conviction and a challenge to McGee's chairmanship of the local party. McGee reportedly was applauded by a standing-room-only crowd at the meeting, during which he gave an eight-minute statement apologizing for his conduct. Click below to read a full report from the Associated Press, and click here for a full report, with photos and the full audio from the meeting, from the Idaho Press-Tribune.
"My behavior that night was uncharacteristic," McGee told the central committee. "You know that that is not who I am, and I'm very embarrassed by that behavior." He also told the GOP group, "I can tell you that the 28-Republican-member caucus of the Idaho state Senate has been very supportive. They want me to stay, and they want me to stay as their caucus chairman, in their elected position of leadership, and I am very honored and humbled by that." McGee, who is in his third year as Canyon County GOP chairman, said, "My plan is to carry out my final year of this term. I have more to give to this party."

He said, "I have made a mistake, and it was a stupid mistake, and I admitted it. I am taking full responsibility for my actions that night. ... I'm paying my debt to society." He said, "I am sorry to each and every one of you. ... It is difficult for me to express the disappointment that I have in my own actions, much less the disappointment that you might have in my actions."
McGee stalls GOP vote on his leadership, probe

CALDWELL, Idaho (AP) — Southwestern Idaho Republicans wanting to weigh in on whether state Sen. John McGee should remain the local party chairman and be investigated following an embarrassing June 19 drunken driving incident were stymied when the 38-year-old lawmaker helped block a vote Tuesday.

At a Canyon County GOP Central Committee meeting, McGee succeeded in diverting a resolution to the group's executive committee, rather than holding an immediate vote.

McGee is the Idaho Senate's majority caucus chairman and fourth-highest-ranking official. He pleaded guilty to drunken driving earlier this month after he took a car without the owner's permission and damaged it, then fell asleep inside.

Central Committee member Ronalee Linsenmann's resolution called for a probe of McGee's "drunken actions" and a vote next month on whether he should remain as county chairman.

But McGee said it was tradition that such resolutions be vetted by the executive committee, of which both he and Linsenmann are members — even though such a procedure isn't required by the party's bylaws.

"It's been the tradition, Ronalee. That's how we do resolutions," McGee told a protesting Linsenmann, according to an audio recording of the exchange provided by the Idaho Press-Tribune. "Especially on something as serious as what you're proposing."

"That's the decision of the chairman, and that's unappealable," McGee, R-Caldwell, told a standing-room-only crowd of 100 at the county courthouse.

McGee appeared to have significant support from those in the audience, with one man chastising Linsenmann for her insistence that the resolution be considered. This scolding drew applause.

During a roughly eight-minute statement, McGee apologized to the local party faithful for his behavior — much like he did July 3 in Ada County court when he pleaded guilty to the drunken driving charge in exchange for having the felony count of taking a vehicle that didn't belong to him dropped.

"You know that is not who I am," McGee said. "I'm very embarrassed of that behavior."

While McGee again described his behavior as uncharacteristic, he didn't repeat the explanation that his lawyer, Scott McKay, provided in court to Ada County Magistrate Judge James Cawthon: The senator got drunk at a golf tournament, fell and suffered a concussion that triggered his actions.

McGee has so far declined to provide medical records underpinning his concussion claim — he hasn't returned multiple phone calls from The Associated Press — and Linsenmann's resolution called for a committee of five to seven people to gather those as part of an investigation.

McGee made it clear that he's not backing away from public life. In addition to remaining in the Senate, he'll also keep up volunteer positions, including as chairman of Caldwell-based College of Idaho trustees.

He joked to the audience that after the June 19 incident, he and Gov. C.L. "Butch" Otter have more in common than merely being Caldwell natives and College of Idaho graduates. Otter was also convicted of drunken driving in the early 1990s.

McGee said Otter had been among those who urged him not to exit public life following the incident.

"He told me to stick with it," McGee said.

With another nod to Otter, McGee also hinted that his aspirations of seeking higher political office aren't over, either.

"Perhaps someday I'll follow in his footsteps," McGee said.

Copyright 2011 The Associated Press.

---
---