Mon., May 23, 2011
Democratic, GOP state chairmen clash, highlight differences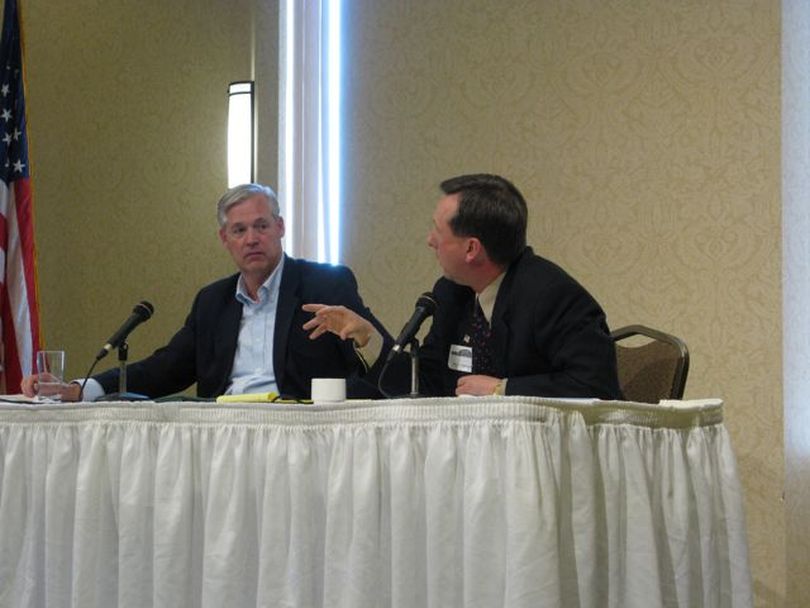 Idaho's current Democratic and Republican party chairmen shared a stage for the first time today at the Boise City Club, and some sparks did fly. The two started off with a shared experience: "We both lost to Bill Sali in 2006," said GOP Chairman Norm Semanko, who lost to Sali in the 1st District GOP primary that year, while current Democratic Chairman Larry Grant fell to Sali in the general election. "Norm and I did both lose," Grant said, "and you might conclude from that that the penalty for losing a congressional race is to become the chairman of the party."

Semanko recounted Republican electoral wins in Idaho since he took office in 2008, from top state offices to the Legislature to county courthouses. Grant retorted, "The only thing history really teaches us is that we made another mistake." He predicted that Democrats will pick up seats in Idaho next year, and challenged the conventional wisdom going into this year's legislative redistricting process - that Democrats only stand to lose further, and Republicans to gain. "You can't draw those lines without sooner or later making a Republican run against a Republican, and for you political junkies out there, one of the most interesting things to watch is which candidates will they throw under the bus," he said. "There's no way they can draw those lines to keep all those people in office." Grant maintained that the Democrats' pockets of electoral success around the state are "easy to draw lines around," saying, "We'll be able to protect our incumbents pretty easily."

A bipartisan citizen commission will draw those lines; it starts meeting in June. Democrats named their commissioners last month; Semanko said Republicans will name theirs before the June 7 deadline.

Semanko said Republicans' growing hold on elected offices in Idaho at all levels comes because of the party's "consistent message ... of smaller government, less spending, no tax increases, personal responsibility and unlimited opportunity. We like to think that we're the party that listens to people, and we like to think that we're the party of ideas. Even when those ideas are uncomfortable, when the discussion of those raises the ire of many, when it questions what our motivations are, we're not afraid to have the discussion, let the chips fall where they may and let people make their own decisions."

Grant chided the majority party for backing closing primary elections, deadpanning, "We Democrats have been voting in their primary for years and it's been a very effective strategy."

Semanko touted the tea party movement, saying, "They felt very strongly about the future of our country and nobody should be demonized for that. The 2010 election was a reflection of that. ... I'm not going to apologize for the philosophy that says we should have smaller government, that we should spend less, that we should have less government control in our lives. That is the philosophy of the Republican Party." Grant said, "The Republican Party had the White House and both houses of Congress for six years and they didn't do anything except spend more and cut taxes." Noting that Republicans have controlled the Idaho Legislature for more than five decades, Grant said, "I would remind you that if there's anything wrong with Idaho, it's their fault." Semanko responded, "I happen to think it's a pretty nice place to live, Larry."

The two also clashed over school reform, with Grant accusing Republicans of opposing public education and instead favoring vouchers to bring government funding to private education, and Semanko citing a national Rasmussen poll to argue that most Americans don't think public school spending is a good use of their tax dollars. "They want to see reform, they want to see change," Semanko said. "They want to see us use our scarce tax dollars smarter and wiser, in a more efficient manner."
---
---