Tue., Nov. 8, 2011
Otter, first lady kick off next phase of Idaho Meth Project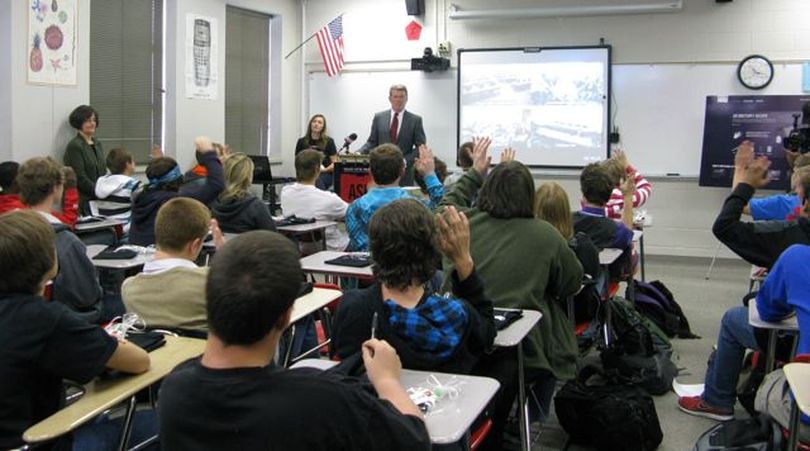 Idaho Gov. Butch Otter and First Lady Lori Otter attended Brian Barber's health class at Boise High School this morning, with classes from four other high schools around the state watching online, to kick off the next phase of the Idaho Meth Project. The public-private anti-drug program is launching a new interactive teen website and advertising in eight states including Idaho, along with mobile and social media campaigns aimed at educating teens about the dangers of methamphetamine use.

Otter asked the Boise High kids, mostly sophomores and juniors with a sprinkling of seniors, "How many of you have heard about the meth project?" Most raised their hands. "That's encouraging," he declared. Lori Otter told the kids the new website, MethProject.org, is "a resource you can go to that is factual, that lays it out, that does not sugar-coat it." She said, "You are being presented with a valuable tool to help you and your friends make good choices in life."

The students were receptive; some said they want to volunteer to help with the campaign. Like earlier Meth Project ads, the new TV commercials feature actors presenting shocking scenarios to illustrate the dangers of meth, while the radio ads and website rely more on actual teens' testimonials and experiences with the drug. The latest TV ads are directed by Darren Aronofsky, director of the movies "Black Swan" and "The Wrestler." The website has games and activities centered on meth dangers, from a mugshot-match game to show how meth users' appearances change to an Operation-style activity showing the effect of the drug on different parts of the body, along with a place where teens can post their own art, poems, stories or other messages with an anti-meth theme.

This is the first time the project has launched a major campaign, including TV, radio, print, billboards and online advertising, in all eight states at once; the eight are Idaho, Arizona, Colorado, Georgia, Hawaii, Illinois, Montana and Wyoming.
---
---