Mon., Oct. 17, 2011
Hampikian on Amanda Knox case: 'I know what happened'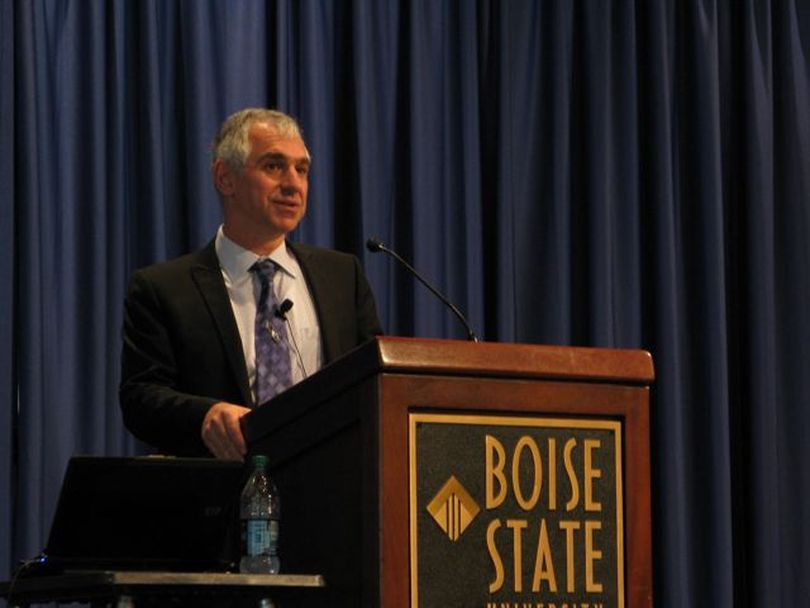 For Boise State University professor Greg Hampikian, there's no mystery at all about what happened to 21-year-old Meredith Kercher, who was found murdered in 2007 in Perugia, Italy, prompting charges against her roommate, Amanda Knox of Seattle, and two others, who later were cleared. "I know what happened," Hampikian told an audience of about 200 at Boise State University today. Kercher, he said, was sexually assaulted and murdered "by one guy - Rudy Guede."

Guede, a drifter from Ivory Coast, was convicted of the murder and remains in prison. But just after the crime, he wasn't the one arrested - a prosecutor, based on a hunch aroused by Knox's behavior, arrested Knox, her boyfriend, and bar owner Patrick Lumumba, and theorized that three people committed the attack. Lumumba turned out to have an airtight alibi - he was working at his bar at the time. And when the DNA evidence came back, it didn't match any of the authorities' three suspects - it matched Guede. He'd left a bloody handprint in the victim's blood on her wall. His DNA was on and inside the victim, all over her room and more. "You had one guy whose DNA was all over the victim," Hampikian said.

But rather than release Knox and her boyfriend, Raffaelle Sollecito, prosecutors went back to the crime scene 46 days later - after many people had been at the scene, including Knox and Sollecito, who were allowed to retrieve belongings - and found a bra clasp that they tested and found showed a tiny bit of Sollecito's DNA. They also took a kitchen knife from a drawer at Sollecito's home and found it showed a tiny bit of Knox's DNA on the handle and a tiny trace of Kercher's on the blade. Hampikian said those traces, not large enough to be reliably tested, likely were the result of contamination by the testers, and that knife was not the murder weapon. The bra from which the clasp came had been collected 46 days earlier and was covered with Guede's DNA, not Sollecito's.

Hampikian headed his talk, "How science freed an innocent woman ... and how bad science multiplied the victims of a terrible tragedy." He conducted an experiment in his lab at Boise State, in which researchers collected soda cans that had been used by employees of the dean's office, and brand-new knives, still in the package from a dollar store. In collecting and tagging the cans and knives - without changing gloves between every piece of evidence, but only between every other piece - lab workers unknowingly transferred a tiny amount of one of the employee's DNA to one of the knives, though she'd never seen or touched it. That's what happened with the evidence in the Knox case, he said. "You can transfer DNA in this way."

"This gut feeling is a very dangerous thing, especially in law enforcement, and it's a very persistent force," Hampikian said. "I have them as well. That's the best part of being a scientist, is that you have data that tells you it's wrong." Standards for measuring the supposed DNA on the evidence in the Knox case were lowered so far that the tests weren't valid at all, he said - and that's what the court eventually found, clearing Knox and freeing her. "All of this has to do with controls," he said, "which, if you're in my lab, that's all you hear about."

Hampikian is director of the Idaho Innocence Project, and is a professor of biology and criminal justice at Boise State.
---
---