Sun., April 1, 2012
The session that was…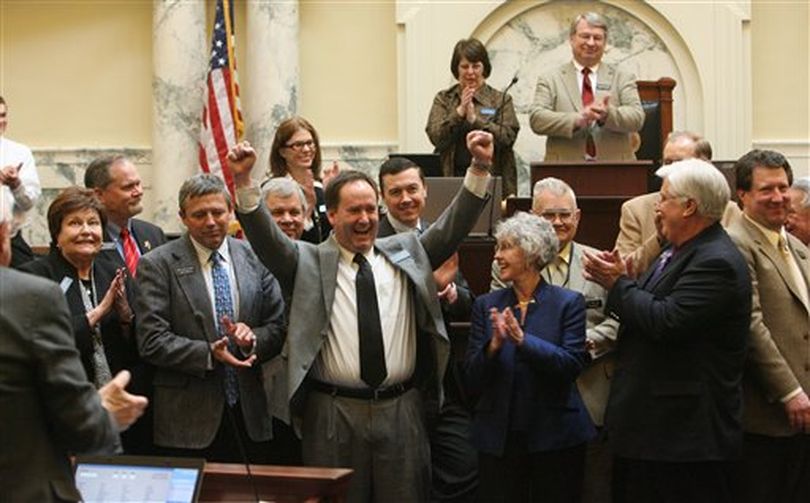 Idaho's legislative session this year was long on drama, but many of the biggest and hottest debates won't mean much for most of the state's residents. Instead, it's the smaller things, some of which passed with little controversy, that will make the most difference in everyday Idahoans' lives. Examples: Idaho became the first state to enact legislation letting drivers show proof of insurance electronically on their smartphones. New youth concussion legislation will require schools to better protect young athletes who suffer head injuries on the playing field. A state suicide hotline got funding to start back up after a six-year gap. Some of the session's biggest debates, on the other hand, will have little effect on state residents. You can read my full story here in today's Spokesman-Review.
In other looks back at the session, click below for AP reporter John Miller's report on "what went splat" during this year's legislative session, from ultrasound to insurance exchange to a cigarette tax hike. You can read my Sunday column here, "Session comes to a screaming end." AP reporter Alex Morrell has a session wrapup here, read how Gov. Butch Otter backtracked here on an education funding claim, and read a report here from Times-News reporter Melissa Davlin on the high number of retiring lawmakers this year, including five longtime Magic Valley legislators.
What went splat during 2012 Idaho Legislature
By JOHN MILLER, Associated Press

BOISE, Idaho (AP) — The 2012 Idaho Legislature was as much about what went splat as it was about what became law.
Hardly anybody would have predicted that conservative House Republicans would reject mandatory ultrasound exams for abortion-seekers, after the Senate backed it on a nearly party-line vote. But that's what happened.
Supporters including Sen. Chuck Winder, R-Boise, have pledged to bring the bill back for 2013, in a bid to help persuade women not to terminate their pregnancies.
If it passes the next time around, would Gov. C.L. "Butch" Otter sign it?
"No comment," Otter told reporters Friday.
Democrats say they aren't taking any chances. They'll be pushing a constitutional amendment, aiming for the 2014 ballot, to protect what they call citizens' rights to refuse government mandated medical procedures.
"Experience shows that not all Idaho legislators have the same perception of personal freedom," said House Minority Leader John Rusche, D-Lewiston.
And to start the session, lawmakers predicted debate over establishing a state-run insurance exchange would figure into the session-ending calculus. But that issue never got a hearing — despite lobbying from powerful insurers like Blue Cross of Idaho, which saw it as a way of keeping federal regulators out of the state.
Conservatives who saw the measure as big government concluded that even a version that shunned $20 million in federal aid available to help set it up was too intertwined with President Barack Obama's health care overhaul.
"Obviously there is a sense of disappointment, especially given how much work I put into it," said Rep. Fred Wood, R-Burley, a physician who spent hours drafting the measure to no avail. "It was a good bill."
Other big failures of the session — depending on perspective, of course — were efforts by House Speaker Lawerence Denney and Republican Party Chairman Norm Semanko to oust redistricting committee members Dolores Crow and Randy Hansen for not being loyal enough. Hansen and Crow have seemingly decent GOP credentials, having both served as Republican state lawmakers, but Denney concluded they sided with Democratic redistricters.
Denney's and Semanko's efforts, roundly criticized by GOP stalwarts including former Gov. Phil Batt, got plowed over by the Idaho Supreme Court. The redistricting commission — and its final plan — stood.
Another of the 2012 Legislature's casualties was Sen. John McGee, the erstwhile majority caucus chairman. Already in hot water after an ill-fated drunken driving incident on Father's Day, the Caldwell Republican quit the Senate on Feb. 22 rather than face an ethics investigation into a young female Senate employee's claim that he sexually harassed her. McGee also quit as Canyon County Republican Party chairman.
Some of the other measures that generated heat during the session, but ultimately, not much light:
POWERED-PARACHUTE WOLF HUNTS: Sen. Jeff Siddoway of Terreton, a Republican rancher, withdrew his measure that would have allowed livestock owners to pursue problem wolves from powered parachutes — and cleared the way to use live bait like the family dog to lure wolves to their doom. The bill made it to the Senate floor, but U.S. Rep. Mike Simpson, whose legislation in Congress helped lift Endangered Species Act protections from wolves in the Northern Rocky Mountains, raised concern that Siddoway's bill could invite federal scrutiny.
ETHICS REFORMS: Republican leaders buoyed Democrats' hopes early in the session for a new, independent commission to investigate ethics complaints. Not only did the effort falter, but Democrats complained that changes made to Senate rules — on the 81st and last day of the session — will undermine the public's trust by making future complaints secret. Republicans said they believe their changes will help clarify when senators must disclose potential conflicts, while protecting lawmakers' good names from frivolous charges.
CIGARETTE TAXES: Lawmakers finally gave an introductory hearing to a bid to hike cigarette taxes by $1.25 a pack, to discourage kids from smoking and raise $50 million to defray taxpayer-funded Medicaid costs stemming from tobacco-related disease. But Republican lawmakers like Rep. Lenore Barrett, of Challis, quickly scuttled the bill, saying people should be given the freedom to make choices — even bad ones — without the state interfering with "social engineering."
GAY AND LESBIAN PROTECTIONS: It took 10 minutes for the Senate State Affairs Committee to shoot down a proposal to add workplace and housing discrimination protections for gay, lesbian, bisexual and transgender individuals to Idaho's Human Rights Act. Stunned supporters wailed in despair, while a GOP lawmaker, Sen. Russ Fulcher of Meridian, said the measure underscored "a conflict of two entirely different world views."
ANTI-BULLYING MEASURE: Sen. Nicole LeFavour of Boise, a backer of the gay and lesbian rights bill, thought she was on her way to a victory when the Senate passed her measure to bolster anti-bullying policies in public schools. But the measure got hung up in Rep. Bob Nonini's House Education Committee, where the Coeur d'Alene Republican refused to hear it. His reasoning: Schools are already well-equipped to deal with bullies.
LAND BOARD LIMITS: Since the Idaho Land Board's 2010 move to add a Boise storage business to state endowment holdings, free-market advocates have decried it as an intrusion of government into the private sector. But an effort to force Idaho to sell Affordable Self Storage was dumped by a Senate committee, whose members were concerned it would have bound the hands of state officials trying to earn the biggest returns for schools.
TAXES ON INTERNET SALES: For the fifth year in a row, House Republicans nixed joining the national effort to tax sales made online. Majority Leader Mike Moyle said Congress should change the law first, then Idaho will follow. Idahoans currently must report their own taxes on items they buy over the Internet, but few do, resulting in about $35 million in estimated lost revenue.
WIND MORATORIUM DEFLATED: Foes of big wind turbines from eastern Idaho, including former state lawmaker Stan Hawkins, failed in their bid for a two-year timeout on industrial wind farms. Hawkins, a Republican, is running for the House; if he's elected, it's a reasonable bet that wind-farm bluster could factor into the 2013 session.

Copyright 2012 The Associated Press.
---
---