Wed., Dec. 5, 2012
Casey on fiscal cliff fight: 'We keep focusing on the wrong thing'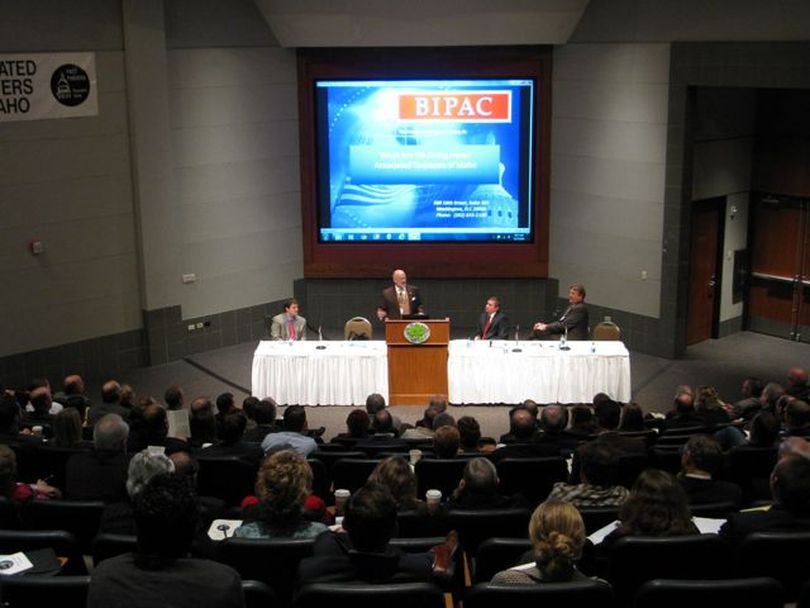 At the Associated Taxpayers of Idaho annual conference this morning, Curtis DuBay of the Heritage Foundation opened with a pitch for his organization's views on the fiscal cliff and national spending policies, saying spending is the problem and taxes shouldn't be raised. He was followed by Greg Casey, president and CEO of BIPAC, the Business Industry Political Action Committee, who told the crowd of several hundred lawmakers, local and state officials, lobbyists and more, "The chance of the Heritage tax plan passing is ... Zero." He added, "I love youthful enthusiasm."

Said Casey, "This is a moving target. We are deeper in the muck than we were last year, with even less clarity." He said, "We're most certainly going to have another credit rating downgrade if we don't come up with a realistic solution."

Casey, a former U.S. Senate sergeant-arms and former chief of staff to then-U.S. Sen. Larry Craig, said, "We got where we are because politics brought us here, and we will either get out or we will go over depending on where politics takes us from here. And in politics there is always one outcome. ... The losers execute the scapegoats ... and the victors define the mandates, regardless of whether those mandates are based in fact. And victor-defined mandates drive the deliberations."
President Obama was the victor in the election, Casey said. "He won. Elections have consequences." To close the deficit, Casey said, "We have to have increased revenues and we have to have cut spending. ... We keep focusing on the wrong thing," in GOP resistance to increases in tax rates.
"This fixation that we have on the tax rate is precisely what the president wants and needs in order to achieve his objectives," Casey said. "He wants to raise taxes on the rich." That's a political issue, Casey said. "The more the GOP are tagged with defending the rich, the more ground they lose in trying to figure out how to reform taxes." He said Idaho's congressional representatives signed Grover Norquist's no-tax-increases pledge before the Bush tax cuts and other cuts. He drew laughter when he asked if it would violate the pledge for members of Congress to vote for the tax rates in effect when they signed it.

"At the end of the day, the issue is revenues vs. expenditures," Casey said. "It's not tax rates vs. expenditures - it's revenues." He said, "If our path is unaltered, the fiscal cliff becomes an off-ramp right smack into the fiscal abyss."
---
---