Wed., March 14, 2012
Pre-abortion ultrasound bill clears committee on straight party-line vote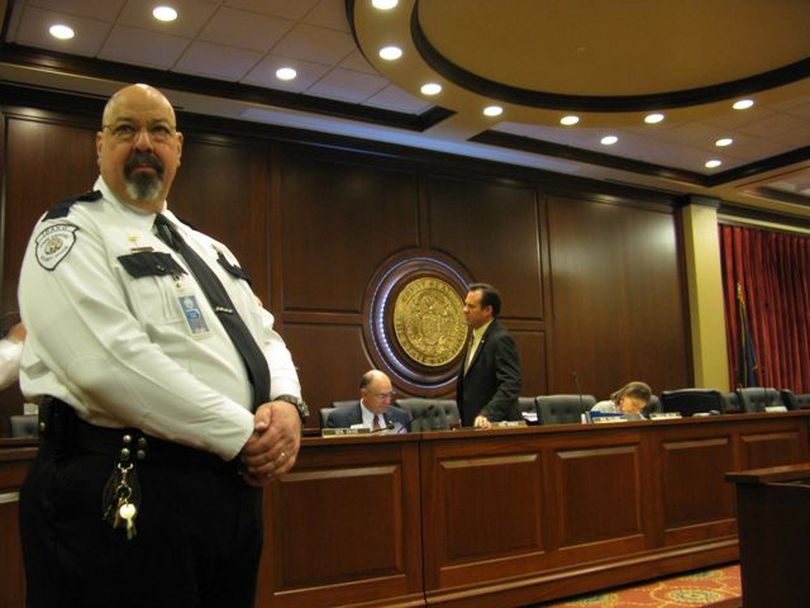 The Senate State Affairs Committee has voted 7-2 along party lines to send the pre-abortion ultrasound bill to the full Senate with a recommendation that it "do pass," prompting several loud, angry shouts from a few in the audience. Security guards quickly moved to stand in front of the senators as they gathered their computers and papers to leave the committee hearing. Sen. Edgar Malepeai, D-Pocatello, had made a motion to kill the bill, but Senate President Pro-Tem Brent Hill, R-Rexburg, made the substitute motion to pass it. You can read my full story here at spokesman.com.

"I do appreciate the testimony today," he said, and mentioned the doctor who testified last. "She said don't let your concern for the unborn influence your decision. That's the major factor influencing my decision."
Malepeai said, "This is an emotional issue, as it should be. ... It seems to me that when I go to a doctor, the door is closed and I have a personal conversation about my health. It's very, very private." Sen. Michelle Stennet, D-Ketchum, who seconded Malepeai's motion, called the bill "unconscionable." But they cast the only two votes against the bill.

Sen. Patti Anne Lodge, R-Huston, said, "I do have a concern for the unborn, and that's going to be the choice I'm going to have to make today, but I have received information from my church that there are concerns with this issue and with this legislation, and that they were given to the sponsors of this bill. They're not opposed to the bill, they are neutral, but there are concerns." She added, "Today I am going to have to stand for the unborn. I am also concerned for young women who have to undergo these procedures - it's not ... pleasant. And I'm also concerned about the state mandating a procedure when we also are fighting against procedures that are placed upon us at the federal level."

---
---