Wed., March 14, 2012
Testimony: 'Wisdom and compassion,' 'Political interference'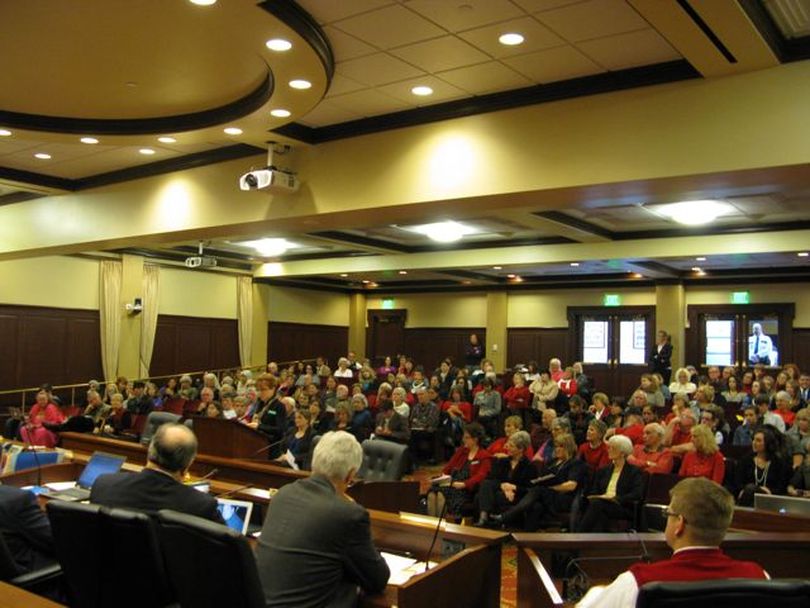 As the hearing continues this morning on the pre-abortion ultrasound bill, Julie Lynde of Cornerstone Family Council told senators, "If women have the right to choose, they have the right to see the facts." She said the pre-abortion ultrasound bill ensures that with "wisdom and compassion." Sen. Edgar Malepeai, D-Pocatello, asked Lynde if she thought the state should insert itself between a patient and a physician; she said she didn't think the bill did that, drawing grumbling from the crowd.

Sen. Michelle Stennett, D-Ketchum, said she couldn't think of any other state law that requires a medical procedure against a person's will, other than criminal laws regarding execution or possibly mandatory blood-draws in certain crimes. She asked Lynde why the state should require an involuntary medical procedure in this case. Lynde said, "The state of Idaho has a stated preference of live birth over abortion. ... The unborn baby, in my opinion, is a citizen as well as the woman."

Monica Hopkins of the ACLU of Idaho spoke against the bill, saying, "It is political interference in a woman's most personal, private medical decision ... and the bill contains unintended consequences." She noted that though the bill requires the state to provide the woman with a list of locations offering free ultrasounds, none of those free providers offer abortions. The bill requires that an ultrasound be conducted by the abortion provider or agent, so those who got the free procedures and still wanted to go through with an abortion would be required to have a second ultrasound, at their own expense.

Stennett said, "My understanding is about 80 percent of the abortions are performed at less than 10 weeks." Given that, and the requirements in the bill for a report on gestational age and other information as a result of the ultrasound, she asked whether that would require transvaginal ultrasounds; Hopkins said yes. "Given the requirements ... we would probably have to mandate a transvaginal ultrasound," she said.
---
---