Wed., May 16, 2012
Otter expects Idaho GOP to re-examine closed primary, after record low turnout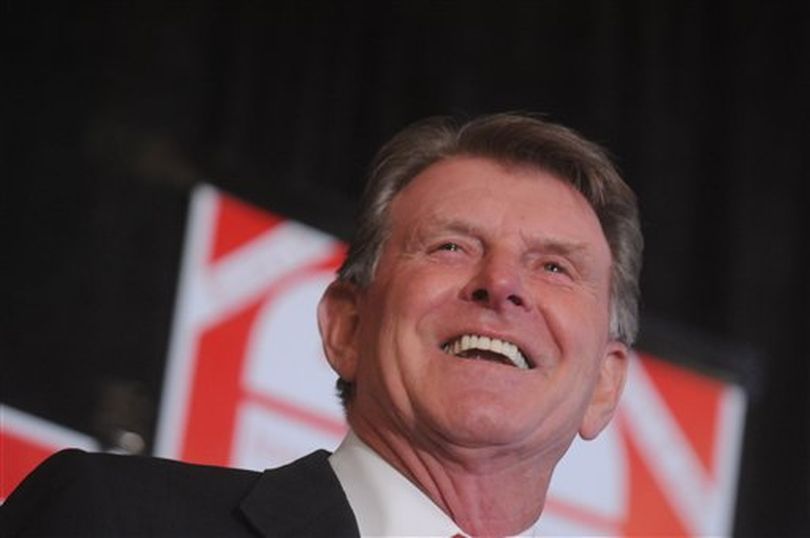 Gov. Butch Otter told the Associated Press today that he expects GOP leaders at their state party convention in June to debate the merits of the party's new closed primary election, after Tuesday's record-low turnout. "It will be, 'What should we do? Should we make any changes?' " Otter told AP reporter John Miller; click below for Miller's full report. Otter was among those who opposed closing the primary, but the Idaho Republican Party sued the state and won, overturning the previous open primary system. Then, the party opted to close its primary vote to anyone other than registered Republicans.
Otter expects GOP to weigh primary at state confab
By JOHN MILLER, Associated Press

BOISE, Idaho (AP) — Gov. C.L. "Butch" Otter expects Republican leaders in June at the GOP convention in Twin Falls to debate the merits of the party's new closed primary election after Tuesday's record-low turnout.
Otter told The Associated Press Wednesday that discussion there will likely center on whether forcing voters to choose an affiliation, then disclosing it as a public record discouraged some from showing up at the polls.
Otter, who opposed the closed primary, believes it's the biggest reason why only about 23 percent of registered voters turned out. The figure won't be official until May 30, when voting-day registrations are factored in, but it will almost certainly fall short of the 25 percent turnout of 1988, said Secretary of State Ben Ysursa.
"I am really disappointed," Otter said, after meeting with Ysursa over preliminary numbers. "I can't help but to think, at least from my point of view, that there will be some discussion of the primary. It will be, 'What should we do? Should we make any changes?' "
In Ada County, Idaho's most-populous, saw only 16.7 percent of voters show up. Nez Perce County, which includes Lewiston, posted 13.5 percent turnout.
Canyon County west of Boise reported 25 percent turnout. That was on par with Twin Falls County and a bit better than Bonneville County, where election officials in eastern Idaho were reporting 23.6 percent.
Some conservative Republicans shuttered the GOP primary to all but registered voters in 2011 following a federal lawsuit, on grounds that requiring voters to publicly select a ballot would discourage Democrats and independent voters from "crossing ballot lines" to skew results toward candidates who didn't toe the GOP line.
Otter says the biggest complaint his office received in the election run-up came from those angry about violations of their privacy in the polling booth.
"I had to say, 'Wait a minute, I was the guy who wanted to keep it the way it was,'" Otter said. "You're shooting at the wrong target."
Jonathan Parker, Idaho GOP director, said Republican state convention delegates in Twin Falls starting June 21 will likely make a recommendation whether to open their 2014 primary or keep it restricted.
But it will only be a recommendation.
GOP central committee members, meeting likely in January 2013, would still have to agree to allow Democratic or unaffiliated voters to participate, something allowed by state law but only if party leaders agree.
"The whole purpose for closing the primary was not to purify the party, but was actually to uphold our constitutional right of association to allow Republican voters to select Republican candidates who will carry our banner forward in the November election," Parker said.
Democratic Party chairman Larry Grant doesn't put much stock in the argument that the first closed GOP primary discouraged strategic-thinking voters irrespective of party from simply choosing the ballot where they thought they could have the biggest impact.
As an example, Grant points to the surprisingly close race between the Democratic Party's chosen candidate for 1st Congressional District, ex-NFL football player Jimmy Farris, and his rival, Cynthia Clinkingbeard, arrested in March after being accused of threatening a Boise office-supply store's employees with a handgun.
Farris won by only 631 votes, just 10,031 people voted and Clinkingbeard won six western and northern Idaho counties, all of them dominated by Republicans.
"Clinkingbeard had an unusual performance," Grant said Wednesday. "It appears to be a combination of a low turnout, Democrats who voted in the Republican primary, instead of the Democratic primary, and either some Republicans or independents or constitutionalists voting in the Democratic primary."

Copyright 2012 The Associated Press.
---
---