Wed., Nov. 7, 2012
Otter: 'We're prepared to sit down and find a path forward with all the stakeholders'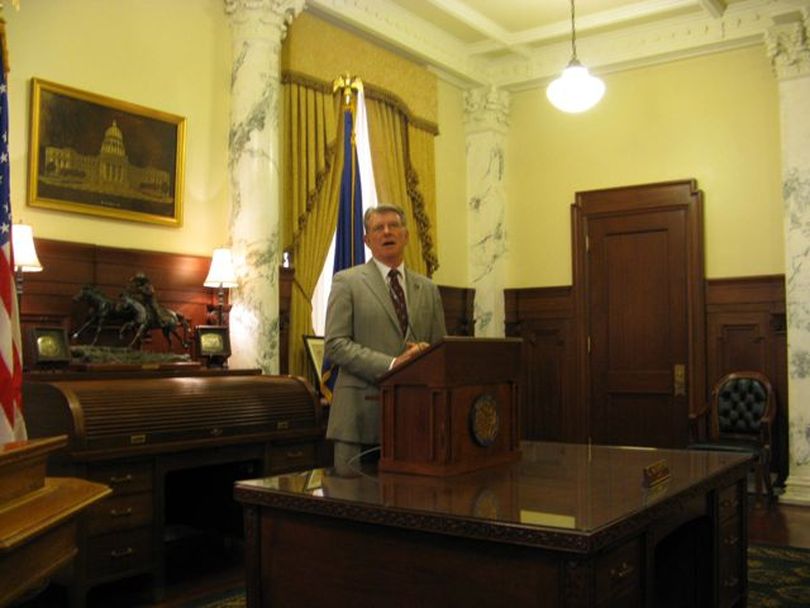 Idaho Gov. Butch Otter spoke with reporters this afternoon about the election results, and he said the call from "Students Come First" opponents to begin new talks with all stakeholders about school reform is "exactly what I want to do."

"I think the interest that was shown on both sides, and what we heard on both sides, gives us a good opportunity to start developing, with everybody, a concurrent plan that we can go forward with," Otter said. "I think everybody does realize, whether they voted for or against the propositions, that our old education system is simply not working. We're not graduating students in many cases that are ready for college, not ready for the wonderful world of work or careers. ... I talked to some of the leadership this morning and we're prepared to sit down and find a path forward with all of the stakeholders."

Otter said he'd be opposed to trying to just re-pass the same laws the voters have rejected. "That isn't a course that I think is positive, that isn't a course that I think would be productive," he said. "I do think what we need to do is take each prop, each idea of reform, and sit down and say, 'What did you like about it? What didn't you like about it? If you had a chance to change it, how would you change it?' And those things that we can agree on, and each and every one of those ... is what we ought to go forward with."

Unlike Otter, Luna didn't talk to the press today. Asked about Luna's sentiments, Otter said, "I sense that he believes this is a new beginning on education reform, and that we're going to have to go forward."

The governor said, "There is something we ought to be celebrating today, and that is the big turnout that we had in Idaho. ... But we also need to celebrate the independence of the Idaho voter. The Idaho voter isn't going to be led anyplace without some rational thought on their own, without some investigation on their own. I have been the benefactor of that, and in some cases I haven't benefited so much from it. But I still love the independence, and I celebrate their independence today."

He added, "I want to concentrate right now on the path forward. I want to vet that through the (legislative) leadership, say what can we accomplish, and how quick can we accomplish that, and who do we have to have in the room to accomplish it."
---
---