Wed., Oct. 31, 2012
Otter: First lady asked NY mayor Bloomberg to donate to Idaho campaign group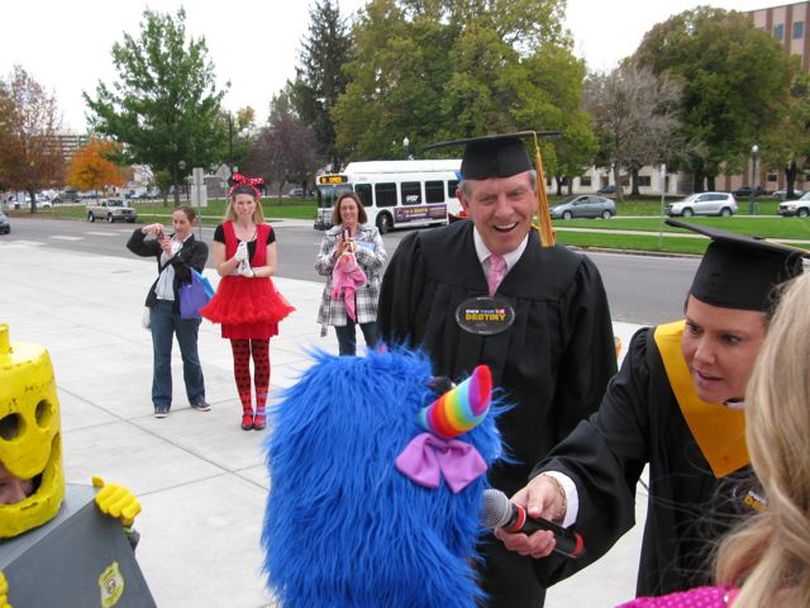 Idaho Gov. Butch Otter says it wasn't him who asked New York Mayor Michael Bloomberg to donate to Idaho's school-reform fight - it was First Lady Lori Otter. "The first lady was the one that talked to Mike's organization," Otter said today, before judging a children's Halloween costume contest on the state Capitol steps. "You know, we got to know Mike pretty well, going up to the, Herb Allen has his gathering up in Sun Valley, and so every year we've gone up, we've ran into Mike, and had an opportunity to kind of get to know each other. He's been interested in education, and Lori I think was telling him about it while we were up there, and he said, 'Give me a call, I'll see if I can help you,' or give his organization a call, I should say, and he'd see if he could help us." Bloomberg donated $200,000 to the secret-donations group Education Voters of Idaho, which today revealed its donors under a court order.

Otter said he was the one who made the pitch to Albertson's heir Joe Scott, who anted up $250,000. "And he was very gracious," Otter said. "But he wanted everybody to know and to make sure that it was him personally," as opposed to the J.A. & Kathryn Albertson Foundation. Both Otter and the first lady today were dressed in costumes consisting of academic caps and gowns, with the foundation's "Go On" slogan festooned on them, urging kids to go on to higher ed after college.

Otter said he did participate in a fundraiser for the school-reform campaign at the Republican National Convention that featured Jeb Bush. He asked how much EVI reported today that it had raised overall, and seemed pleased with the $641,000 figure, saying, "OK, good!"

The group was presented by its chair, Debbie Field, and co-executive director, John Foster, as a way to provide a voice for parents in the debate, but its donor list is heavy on businesses and organizations and out-of-state wealthy folks. "As far as corporations, those other organizations, remember they all have employees, and those employees have kids," Otter said. "And they also want to look forward to tomorrow's workforce, and they know that a good education is an important part of that."

Otter said he was fine with the donors being disclosed. "I think, look, that's the law," he said. "No matter where you organize the organization ... they've got to obey our laws. And that has been my position all along."

---
---