Wed., Dec. 4, 2013
Public lands transfer proposal draws testimony, opposition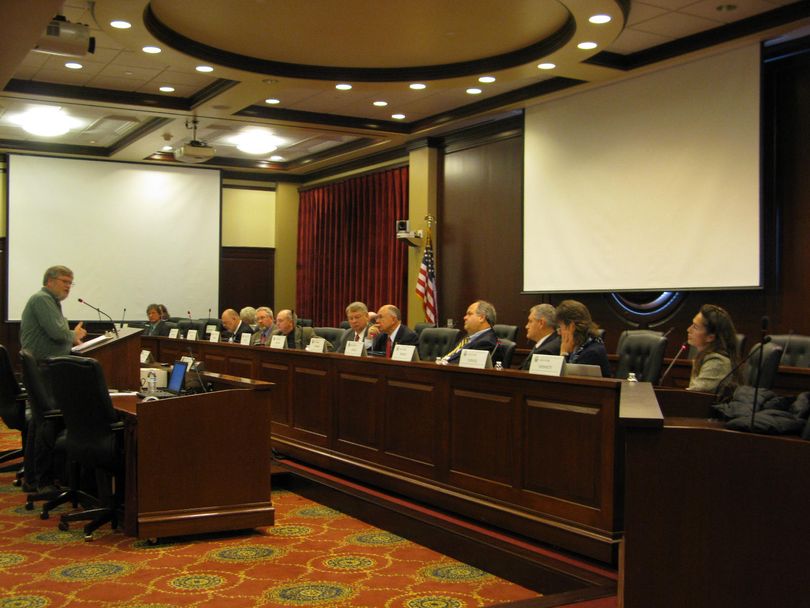 The Idaho Legislature's Federal Lands Interim Committee is taking public testimony this morning on proposals to have the state take over title to federal public lands. So far, most has been solidly against the idea. Opponents expressed concerns over Idaho's vast public land being sold off to private owners; an economist said the state of Idaho would incur billions in costs that it can't afford; and a foresters association expressed concern over road management costs the state would take on.
An exception was Russ Smerz, an unpaid lobbyist for Tea Party Boise who said he was speaking for "23 different liberty groups around the state of Idaho," including 14 tea party groups, the John Birch Society, the Idaho Freedom Foundation, Idaho Open Carry and more. "We do support the transfer of federal lands to the state," he told the committee. "Basically it's increased school funding, better managed by the state than the feds, and the historical precedent that has been set by the eastern states." Jeff Wright of Boise County spoke in favor of transfer; he said his county is 90 percent federally owned. "We can't develop an economy because we're not allowed to," he said. "I think it's time that Idaho took control of their own destiny."
Buster Gibson, vice chair of the Shoshone-Paiute Tribes, spoke against the move. "I come from a long line of leaders and we do not have a settlement or a treaty with the federal government," he told the committee. "Land title for southwestern Idaho has never been transferred to the United States. … That is our land, my people's land. It has not been patented and we do not want the state of Idaho to manage it for us. We want the federal government to continue the management or to give it back to us and compensate us for it. We still hold Indian title to this land and that's where our relationship to the federal government stands; it's not to the state of Idaho government. … You have no right to take this land or to manage it. You'll leave us with two options: We can fight you in federal court, or we'll fight you in the nation's capitol."
Jack Trueblood told the lawmakers, "I fear the ultimate result would be the sale of much of those lands, and there's nothing that restricts access like a no-trespassing sign." The committee has another public comment period set for 1:30 to 2:40 p.m. today, as part of its all-day meeting in the Lincoln Auditorium in the state Capitol, which also includes a series of presentations. You can listen live here.
---
---