Wed., Feb. 6, 2013
Panelist: 'Discrimination is bad for business - period'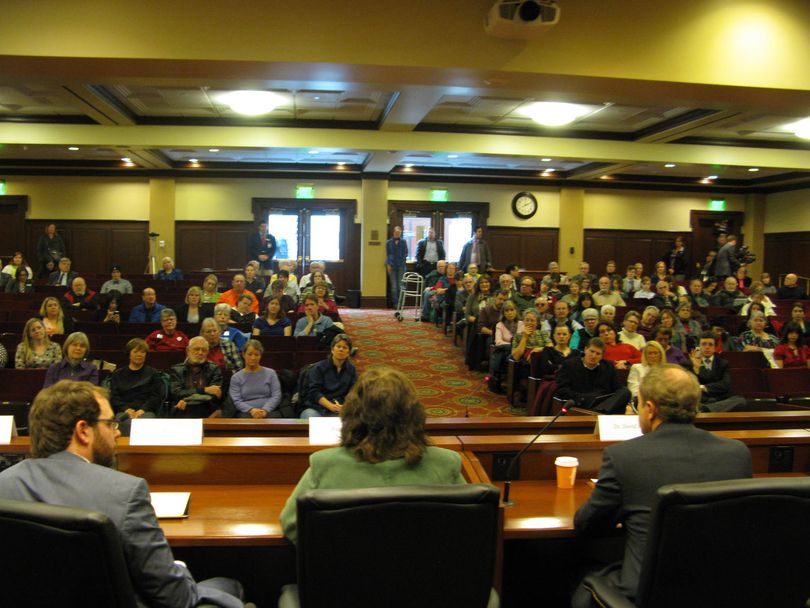 A large crowd has turned out today for a panel discussion on Idaho's Human Rights Act and its possible amendment to ban discrimination on the basis of sexual orientation and gender identity. Gathered in the Capitol Auditorium, the crowd is hearing from a panel moderated by David Adler, director of the Andrus Center for Public Policy.
"Until all of us are free, none of us are free," said the Rev. Marci Glass, pastor of Southminster Presbyterian Church; she said her support for non-discrimination is deeply rooted in scripture and her Christian beliefs. Clark Krause, executive director of the Boise Valley Economic Partnership, said, "Discrimination is bad for business – period."
John Reuter, former Sandpoint City Council president, said, "I felt a special obligation as a white, straight male Republican to say, hey … look, there are people who can't speak." Reuter spearheaded Sandpoint's non-discrimination ordinance for sexual orientation and gender identity; since that was adopted last year, Boise and Ketchum have followed suit, and other Idaho cities are considering ordinances. But the state Legislature has rejected such legislation for the past six years.
"I think action is possible in Idaho, and it's going to be bipartisan if it happens in Idaho," Reuter said, "and I think it will happen." He said when he was on the Sandpoint council, it was divided between Republicans and Democrats, though officially nonpartisan. "We came together to say this is the right thing for all of our citizens," he said, "for people to have a right to keep a job … without being discriminated against for something that has nothing to do with their job performance, and is an innate part of who they are."
Other panelists include Boise City Councilwoman Maryanne Jordan, Bardenay restaurant owner Kevin Settles, and Idaho Human Rights Commission Director Pam Parks, who shared the history of the Idaho Human Rights Act – enacted at the behest of then-Sen. Phil Batt, who later served as Idaho's governor. The act currently bans discrimination on the basis of race, color, religion, sex, national origin or disability in employment, housing and public accommodations. Said Adler, "Everybody is protected - unless you're not."
Settles said, "My restaurants are big places, they need to be busy. It takes a lot of people for us to turn a profit, it takes a lot of employees." He said, "Exclusive restaurants generally don't survive."
---
---