Sun., Jan. 6, 2013
Implications of personal property tax repeal…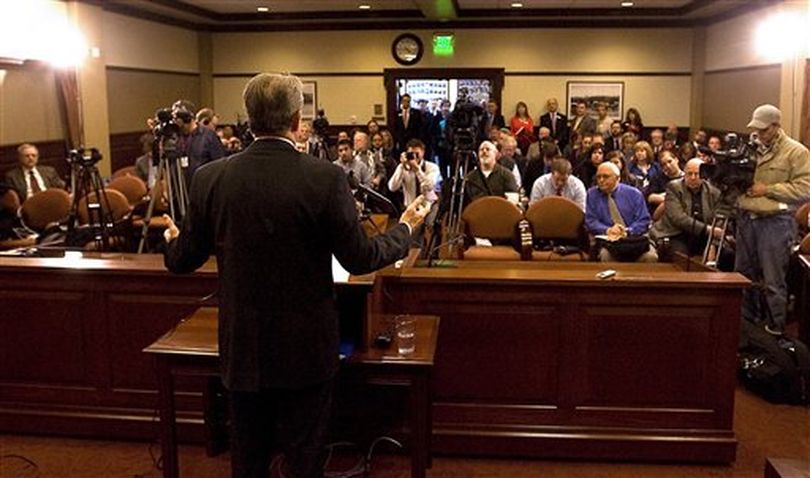 Click below for a report from AP reporter John Miller on the potential repeal of the personal property tax on business property. Gov. Butch Otter said Friday that he'll promote a repeal plan in his State of the State address to lawmakers on Monday, provided it can be accomplished without harming local government in Idaho. But there are wide-ranging implications, including tax shifts.
Idaho's Otter sets sights on more tax cuts
JOHN MILLER,Associated Press
BOISE, Idaho (AP) — Gov. C.L. "Butch" Otter said Friday he'll promote a plan to repeal Idaho's $141 million personal property tax when the 2013 Legislature begins, calling a multi-year phase out of the assessment on business equipment a possibility — provided local governments that now depend on the money aren't hung out to dry.
Otter made the comments at The Associated Press' annual legislative preview at the Idaho Capitol. This would be Otter's second session of pushing for tax cuts: Last year, lawmakers backed his plan to cut income taxes by some $36 million.
Democratic lawmakers who spoke after Otter at the AP event cautioned against shifting taxes onto the shoulders of others, including homeowners. And a former state economist predicted repeal would benefit Idaho's largest companies while undermining school funding.
Otter ordinarily avoids leaking details of his State of the State speech that's planned for Monday, so providing this outline, however rough, is a strong indicator the Republican governor sees the repeal as a significant part of his 2013 agenda.
"I think there's a path forward — I don't have it all fleshed out yet — without doing harm to the local units of government," Otter told more than 75 reporters, lobbyists, lawmakers and others. "That path forward can take a lot of different avenues."
A 2008 partial repeal, now valued at about $21 million, sought to eliminate the tax for about 85 percent of Idaho businesses. It's never taken effect, however, because of the sluggish economy.
The Idaho Association of Commerce and Industry, a pro-business group whose members include Idaho Power Co., the state's biggest utility, agricultural conglomerate J.R. Simplot Co., and Micron Technology Inc., has made a complete repeal one of its top priorities for years.
Richard Smith, a lawyer with the Boise-based law firm of Hawley Troxell who represents large companies in tax cases, said this year's push to finally achieve that represents a rare opportunity: Simultaneously eliminate an unwanted, onerous burden for existing Idaho businesses while enhancing the state's attractiveness for companies looking to relocate in a friendlier tax climate.
"The best tool we have is to eliminate the personal property tax," Smith said at the AP event. "If we want an edge, why not use a tax that everybody agrees is unfair."
According to the Idaho State Tax Commission, the tax will generate some $141 million for local governments in 2012.
Cities get about $33 million, public schools about $38.6 million and Idaho's 44 counties' share of the revenue is $39 million — cash that Idaho Association of Counties Executive Director Dan Chadwick said his members rely on to pay judges and public defenders, for indigent services and to ensure ambulances and fire trucks are ready in emergencies.
Chadwick agrees with Otter: Any repeal must be accompanied by replacement dollars.
Anything short of that is "an absolute impossibility," he said. "It isn't enough to say, 'Let's repeal it, and let's let the dust settle and let's see if we can grow our way out of it.' "
Minority Democrats said simply replacing lost personal property tax revenue by shifting the burden to other classes of property owners like residential and commercial property or by raising Idaho's sales tax is a frightening proposition, especially for rural Idaho communities that now rely heavily on the personal property tax.
For instance, Caribou County, in the state's far east, gets 42 percent of its revenue from personal property taxes paid by big mining and refining companies there, including Monsanto Co.
"They're begging of us to think about what that would do to small communities," Senate Minority Leader Michelle Stennett of Ketchum said.
The state's former chief economist, Mike Ferguson, who now directs the Idaho Center for Fiscal Policy, contends schools would likely be forced to plead with their residents for more money, if repeal goes through.
Meanwhile, semiconductor makers, utilities and agricultural processors that already enjoy generous tax breaks on investment and production equipment would be further relieved of their obligations, he said.
"For many of the largest firms, it would be like hitting the trifecta," Ferguson said. "No sales tax, significantly reduced income tax, and now no personal property tax."

Copyright 2013 The Associated Press.
---
---